I feel like I shouldn't post here since I can never read any of these without bawling, so I don't respond... But I have to pay tribute to our old man Nigel.
For those that noticed, my signature says (won't for much longer) all my pets in age order, first being "Nigel, the chinchilla that just keeps ticking."
Well, sometime this evening, his ticking stopped.
This is a brief history of his I wrote a bit ago:
***
Nigel is quite the character. He's one of the few we rescued from an individual, and not from a shelter. We got him from a friend's niece. When his previous mommy went off to college, he was left with her parents, who basically neglected him. After a few years of him living a sad, sad life, my friend brought him to us.
She told us his story- that he had been loved but was now neglected, and that he was 17 years old and she only wanted him to have a happy end of his life with us. So we took him in expecting him to die any month, since chinchilla life spans are like a cat's- they can live to be 20, but it's rare.
That was 4 years ago! So we didn't expect him to live with us for a year, and now, if they are right on his age, and they swear they are, he is 21 years old! And he is healthier and happier than ever.
So that's why he's earned that nickname. He's far surpased our expectations! We love him dearly- he really blossomed with us- and hope he continues defying the odds.
***
When I get home, I have a routine. Check on all pets (The X-Pack is very last, since they take the longest!), play with them, feed them if necessary, clean if necessary... Today I got home about 5:30, and checked on the chins first. Nigel had plenty of food, so I gave him some love and raisins. Checked everyone else, then did some housework. I went up to spend time with the X-Pack about 6:45-ish, and at that point he still seemed fine.
About half an hour ago, my husband and I came down stairs to get ready for bed. He went to go feed the chins some last raisins (Nigel was going to get banana chips this time... He's the only one that likes those, now we have no one to eat them...
) and he was in a corner curled up and dead...
So at least, we think he went peacefully. Unlike my other chinchilla Sarah who had a long last fight, his was quick and, hopefully, painless.
He had really blossomed with us. I orinigally didn't want him because I had just lost Sarah and both my Grandmothers when they asked me to take him, and I didn't want to deal with another death. I'm really glad my husband (then boyfriend) went behind my back (unwittingly) and took him home. I'm happy we gave him some good last 4 years filled with love.
Nigel enjoying his free time: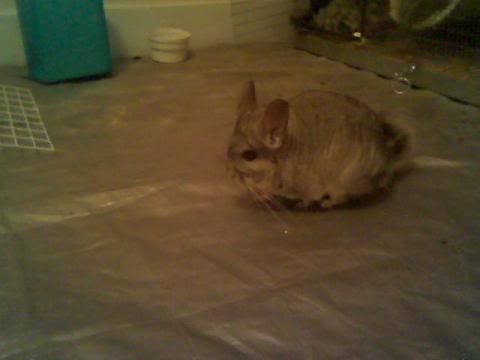 Nigel chilling on a hot day!
Sleepy old man.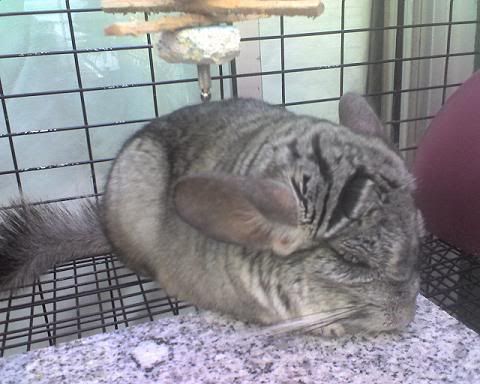 At least he didn't die a virgin! Nigel and his baby, Kyu.
Play happily over the Rainbow Bridge Nigel!