We took my SO's nephews fishing the other week and caught a bunch of rainbow trout (stock ones). We released all but what we were going to eat for dinner that night, plus we saved one for the kitties
Before you have a heart attack from the first few pics, we did NOT actually feed them raw fish (the bones are dangerous, among other things). We just wanted to see how they would react, and they had NO interest in it before it was cooked. They were curious but were not sure what to think and eventually lost interest in it.
What the heck is this?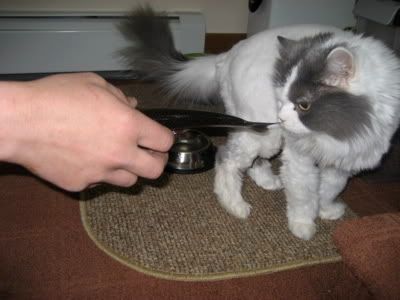 It's not Fancy Feast.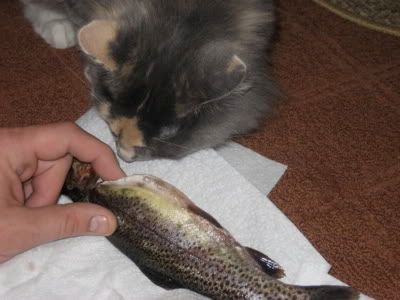 I'm just gonna hang out back here.
It wasn't until we cooked it and gave them tiny pieces (which again, we checked very closely for the tiny bones, they can be hard to find in trout) that they FLIPPED out. It was like kitty heaven for them
They did what we call the "bear stance." It's pretty common for Chloe to do this for treats, but Matilda never acts like this. She loved the smell of the trout.
Oh treats!
Gimme Gimme!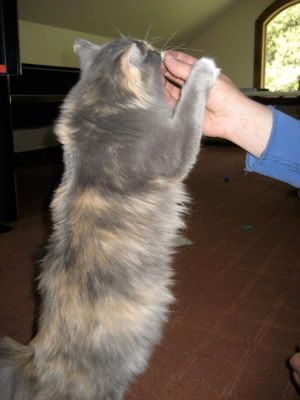 Me too! (this pic was after we had her shaved, lol)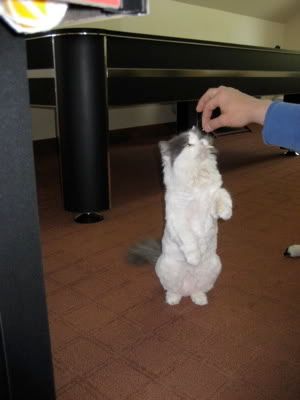 Spoiled kitties.