kitty's kittens are 3 weeks old today. shouldn't they be pooping and peeing by themselves by now?
i've found no little evidences, in the nesting box, of them doing it on their own yet! and i am still seeing their mum, kitty, stimulating them and cleaning them.
should i be worried?
i often look at the 'purrinlot's kitten development calendar' to know what to expect in their development, and i know it is only a rough guide, and kittens will develop at different stages, just like babies i suppose, but according to that, they should have started doing it themselves quite a few days ago.
i've been and bought a smaller litter tray, all ready to give them a helping hand, but it seems it just isn't needed yet!!


also, another question...
one of the kittens, patches, seems to be a lot fluffier than the rest, and her tail especially is a lot thicker.
i wondered if she is going to be a long-haired cat.
i did post this question a few days ago, but i only got one reply, so i would appreciate anybody giving their opinion please, as i know their are lot more experts than me on here.
there's some pictures of patches down below.
many thanks
tracy x


patches (the fluffy one!) is in the foreground in this picture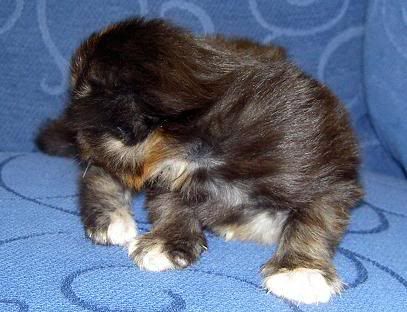 patches is on the left in this picture




patches tail is the one on the left in this picture