Hello! Been lurking around on the forum for awhile and decided that it's finally time to start doing some posting!
I am owned by Yoshi the kitty. She is a sweet little tortoise shell cat who adores anyone who will snuggle with her. Yoshi had her first litter of kittens on June 11. That was totally my bad...I waited too long to spay her, and after ONE TIME of managing to get outside she got preggers.
So...that just goes to show the importance of altering your pets asap. I already feel very badly about this, so I would appreciate no harsh comments about my mistake, because I already realize what I did wrong and am doing the best I can to make up for it now. That is why I joined this site...so I can take the best care of these little cuties that are now in this world.
I also have many other pets including a siberian husky, a doberman/german shepherd mix, six rats, a red eared slider, a painted turtle, a bearded dragon, and a greek tortoise.
I am 19, a vegetarian, and I live in Utah.
Well...I think that's me in a nutshell! Here's a picture of my baby Yoshi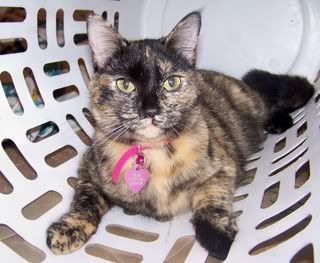 Also, here is a video of Yoshi and her babies when they were only two days old
http://www.youtube.com/watch?v=c4Nr9xUeecM