I'm a newbie...so my apologies if this is posted in the wrong section!
Anywho...I was hoping to get some help identifying what you would call the color/markings of a couple of kittens. I'm thinking maybe flame point or orange tabby... but I know nothing about cat colors/markings and would like some opinions. These two are just a day over two weeks, and this is what they look like so far....
Kitten One:
His/her face has been orange since birth, and is getting darker and getting kind of a striped pattern.
His/her tail has also been striped since birth
Here's a full body shot...lots of orange stripes on the legs and face...body is more of a cream color with an orange-ish tint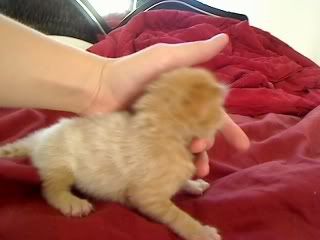 Kitten Two:
This one was completely white at birth, and is getting some orange coloring. His/her face is much lighter. Has some orange around the nose and eyes, and has orange ears.
The tail is cream...no stripes of color but a slight orange tint.
Body shot, some orange stripes on the legs, and some orange on the face and ears. Mostly cream colored. It's a lighter cream than the first kitten, without the orange tint.