I actually made my first post here almost three weeks ago, unfortunately it was a desperate post in Crossing the bridge...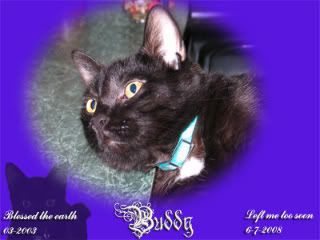 Now that I think I will actually survive the grief...I thought I would come in an introduce myself!
My name is Anita, I am the proud parent of six human kids, and now, three furry kids.
Coilie is 11, pure black, a big boy with the face of a lion, definitely rules the house and all those who enter.
Lumpy (he is Buddy's brother from the same litter) five years old. He was the runt of the litter, he is still about the size of a nine month old kitten.... very sweet little boy. mostly black with a tiny white diamond on his neck, and a white patch on his belly.
And then there is Demon... he is 2 years old, and yes he earned his name! He is all white (very long hair) with the exception of a gray patch on the top of his head... I tell my kids that is the mark left when his horns were removed.
He is the sweetest cat to humans, my near constant companion now days, but he will not allow any other cats to come near me..without a fight...hence his name. (he has learned not to mess with Coilie)
No purebreds here...actually, they were all taken in as strays, ferals, or discarded by their prior owners. grrrrr.
I have had cats my whole life, and I am sure I will for the rest of it...I can't imagine life without them actually.
We had quite a colony of ferals in our neighborhood several years ago, I used to put bowls of food out at night....then watch about 20 little black cats run from all directions to eat... my neighbors started calling me "cat lady".
Sadly...as it happens with the poor little souls, the feral colony diminished...I was not successful in TNR but with five of them...
I am glad there is a forum such as this....I know I received incredible support here in the last two and a half weeks after the loss of my love Buddy (Wubby).....thank you all so much, I look forward to getting to know you all better!