Hello hello,
Not sure if this belongs here or in the Strays/Ferals section. Feel free to move it if you like.
I'm currently in Lima, Peru as some of you may know. Last night I went next door to get a few things out of my car. The car parked next to me appeared to be having mechanical problems and a group of people were looking under the hood.. they asked me for a flashlight so I came to see what was going on since I have a bunch of tools in my car, should they have needed them. When I asked what was going on the guy just said there was a cat. I presumed that this was some weird Peruvian car term I didn't know, but then I heard the meowing!
After a few minutes he finally located the kitty above/in front of the front wheel and asked me to help him get it out. It was REALLY stuck in there, and I have NO idea how it even got there. After about 10 minutes of him pushing the rubber bit that keeps the engine area closed and me yanking on the cat we finally managed to drag him out.
The poor kitty was SOAKED in engine grease and seemingly water aswell. The guy led me over to a pile of garbage and told me to leave the cat there, thanked me for helping him and drove off.
When I set this poor thing down I knew I couldn't leave him there since he was shivering from being so wet, and black from all the engine grease. I left him and ran back inside to get Josh (my boyfriend) to help me with the kitty.
He hid under a few cars but never ran away or struggled when we reached under to pull him out. We managed to get him and wrapped him up in Josh's sweater. As soon as he was all wrapped up he was instantly calm and got all happy looking since it was all warm and snuggly in there.
So we took him inside and spent a few hours trying to clean him up.. it reminded me of all those oil spill commercials you see on TV where people are dunking oil covered birds into tubs of soapy water. We gave him some food and water and he was happy as a clam.
He seemed to be very comfortable with us right away. He insisted on sitting on Josh's lap and seemed to enjoy being cleaned. Eventually he got up and hung out under the bed for awhile, so Josh and I watched a movie and he snuggled up in Josh's sweater on the ground.
He doesn't seem to mind being stuck in this room. He's mostly been sleeping and eating, and is loving all the pets and cuddles. He's CRAWLING with fleas so hopefully I can find some flea medicine for him soon. It's Sunday here so all the vets in the vicinity are closed, so vet will have to wait until tommorow. I think he's also got ear mites and he hasn't gone to the bathroom yet (as far as I know..) Really, in almost 24 hours he has not gone to the bathroom. I think he's a little weary of his "litter box" which is just a box filled with dirt, but I'm hoping it doesn't mean anything bad!
Here's some photos of him last night.. keep in mind all those gray spots are actually supposed to be white! I'm guessing by the size of him he's probably about 4-5 months old. What do you think?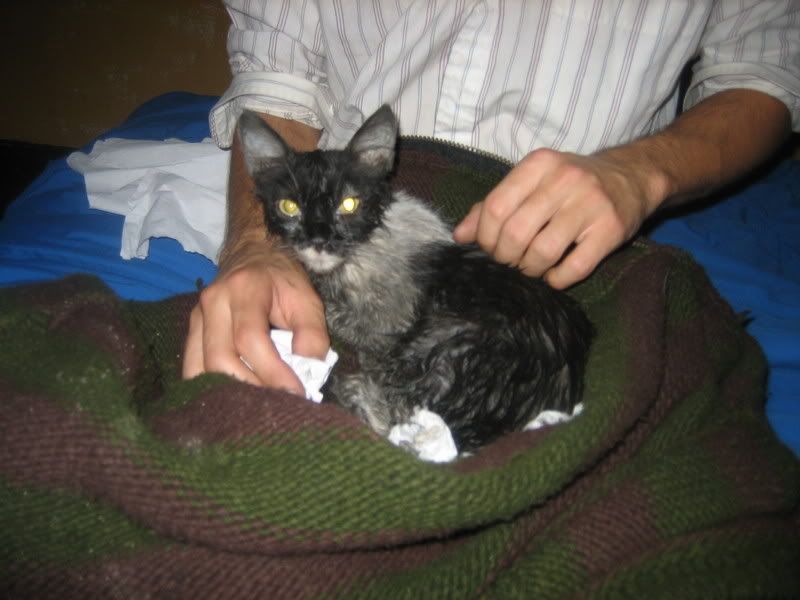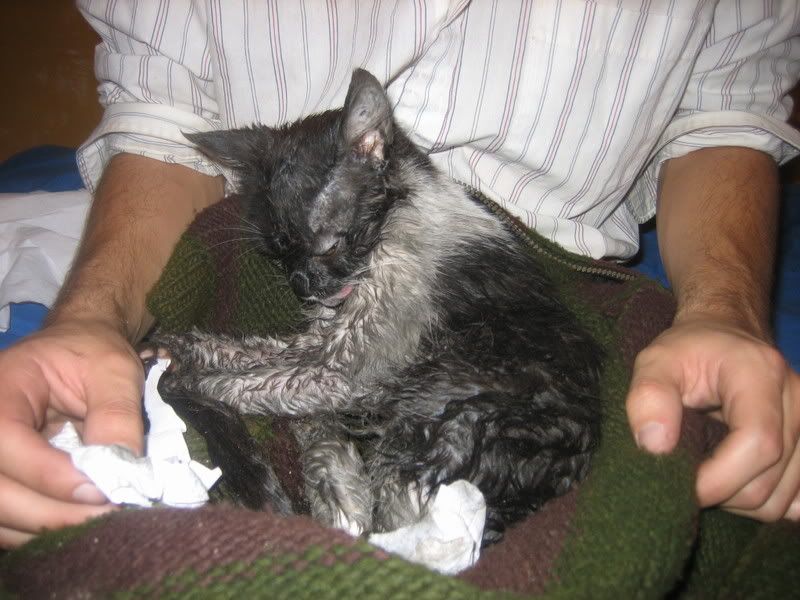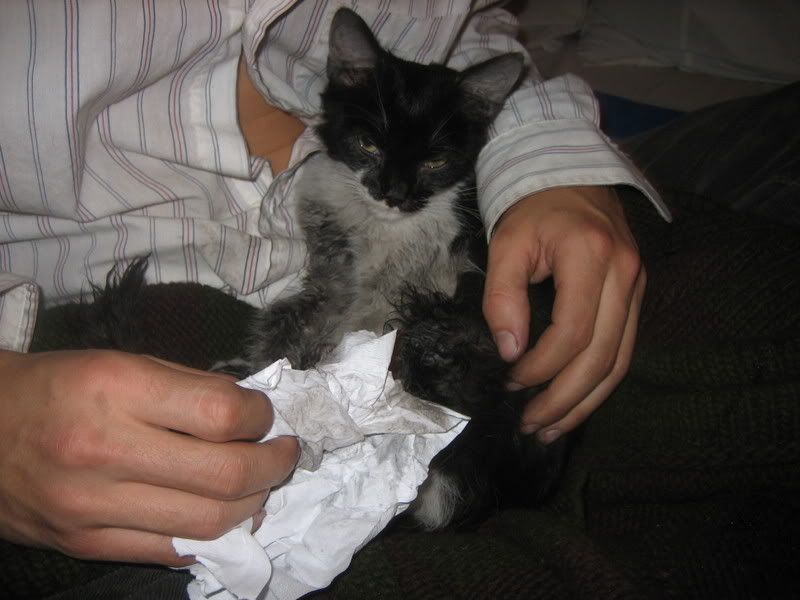 And today, looking a little bit better..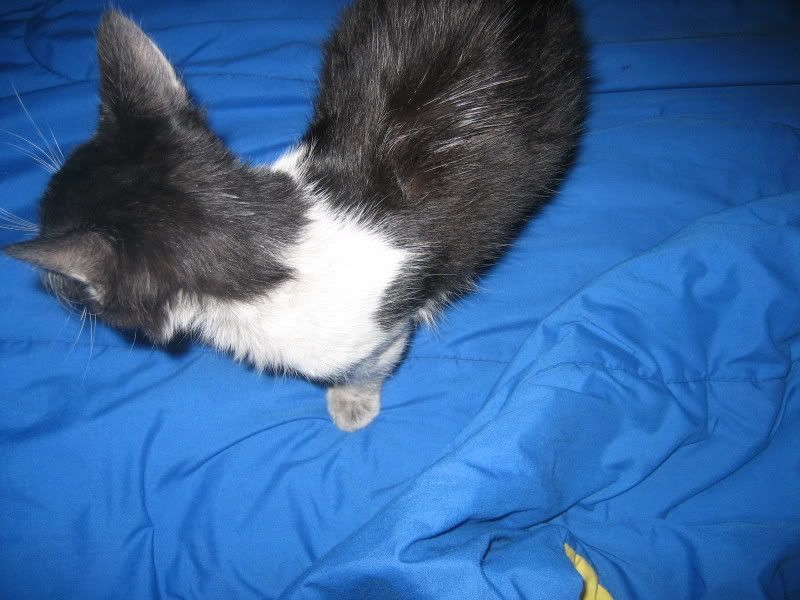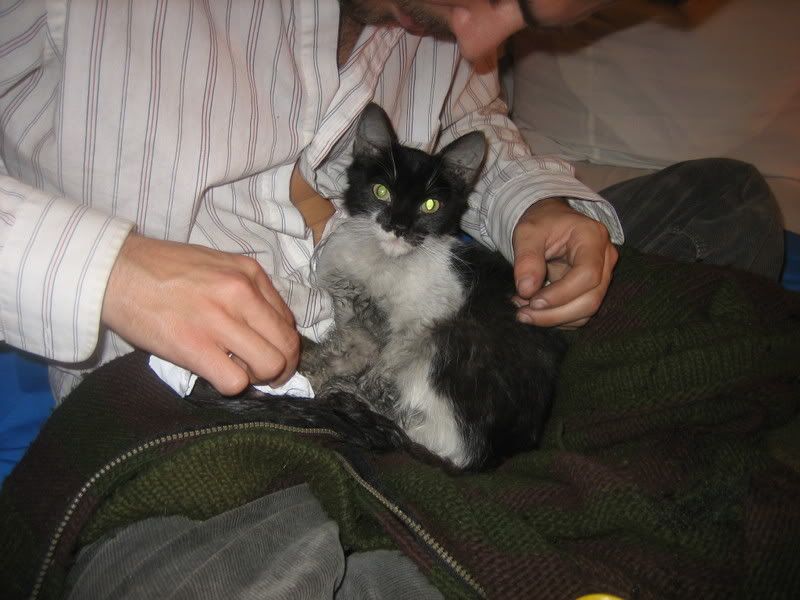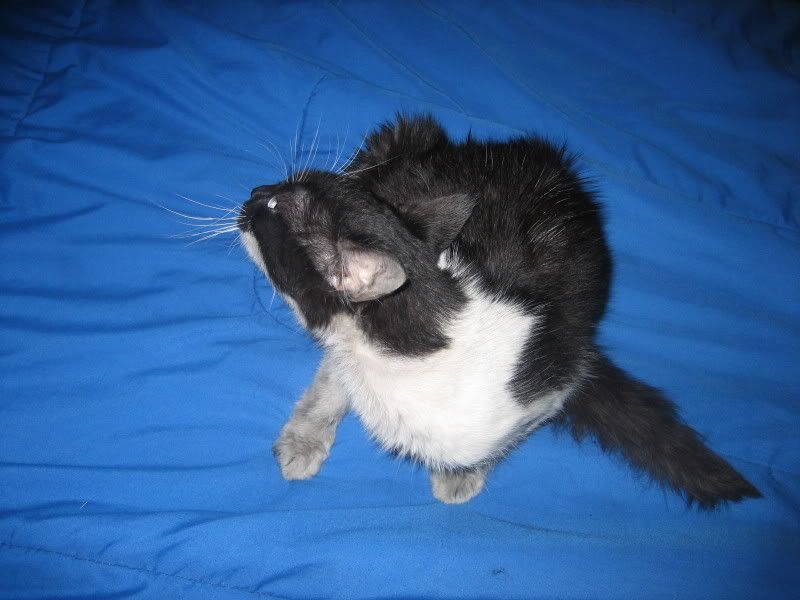 I'm not sure what to do with this little guy yet. I guess we'll take him to the vet tommorow and get him all fixed up, and see from there.. Josh has already named him Valdez, hee hee.
Update!! He finally used his litterbox!