I have documented here how much Seldon enjoys the kittens. Saffron and Sachi adore him. He likes to spend time in their room. He is more interested in the kittens than the others. Mary likes to groom them but she is a strict disciplinarian and is absolutely no fun. Cleo sizes them up as too little to help him raid the barbies and treats so until they can participate in midnight treats raids he will skip it for now.
He has invented a new game for them to play. He will lay on his side and they pounce on his tail. He moves his tail all around and they try to pounce on it. He even let Saffron wrestle with his tail and then he moves it. I can't tell you how fun the kittens think this is. He was dozing off but still moving his tail around.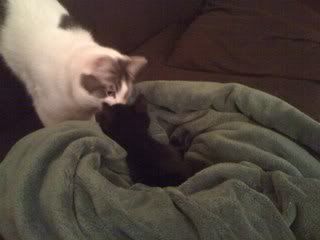 This is Seldon with Sachi.