hi everyone!

i'm a newbie on this great cat site. i stumbled across it a few days ago, when i was looking for info on the internet on pregnant cats and kittens, as we've just been 'adopted' by a sweet little pregnant tortie, who then had her 4 kittens at our house 6 days ago.
i've always been an avid cat lover. we always had a cat or cats when i was growing up at home. but when i got married, my then husband, didn't like cats so wouldn't let me have one, so i had to put up with 12 years without a loveable moggie!
however, we eventually got divorced, and then i met my current partner, and together we adopted a gorgeous 2 year old neutered silver tabby male called 'BUSTER' from the RSPCA.
we've had him for 7 years now, and we absolutely love him to bits. he's my furbaby and he's spoilt rotten.
anyway, a few weeks ago, a little tortie female started hanging around buster, and she kept sneaking through our cat flap and stealing busters food, and as the weeks went on, it became obvious that she was pregnant! (although obviously buster is not the daddy!!).
just over a week ago, she kept sneaking in and hiding behind one of the chairs in our back living room, no doubt looking for a suitable nest. we kept coaxing her out of her hiding place, as i didn't want to steal somebody else's pet, but she kept finding her way back in the house and going to her 'nest'.
after a bit of detective work, i found out that she belonged to a woman on the next street to ours, and so went and told her that i thought her cat would be likely to have her kittens behind my chair.
to be quite honest, the woman was over-run with cats. she had a couple that were pregnant, one that had just had her kittens the day before, as well as other cats and dogs. i think she just didn't have the responsibility or money to have them neutered.
anyway, 'KITTY' as we have called her, had her 4 kittens, as we guessed behind my chair, the very next morning. my 18 year old daughter, kerry, and i were with her all the way, and it was wonderful to see.
i went to see her owner again to tell her the kittens had been born, and after discussing it, it was decided that i would keep kitty and her kittens, as she had obviously chosen us as a new home for her babies.
i think, guessing by the way she was talking, that the woman was relieved to have one less cat to worry about.
so we are now the proud owners of BUSTER, KITTY and 4 babies, who we have temporarily named, SOOTY, SWEEP, PATCHES and GIZZMO.
we won't be sure yet if kitty will stay with us once the kittens have weaned, or if she will go back home. we would rather she stayed with us, but i think we will have to see what she chooses to do.
my daughter kerry, would like to keep the kitten who we call gizzmo, but i think we could only keep it if it turns out to be a girl, as buster is very territorial and i don't think he would accept it later on, if it is a boy.
but we are hoping to keep one kitten, and hopefully kitty, and the other kittens will be going to friends only, then i know they will have good homes.
well, that's my little story. sorry it was a bit long winded, but i wanted to introduce myself properly and i hope to meet some other moggie-loving people like myself on this forum.



here's some photos of my furbabies...!





here's my baby .. BUSTER or buzzie as he sometimes gets called...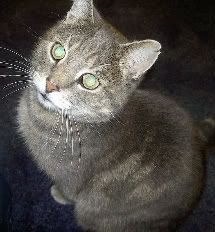 here's KITTY... the day before she had her babies...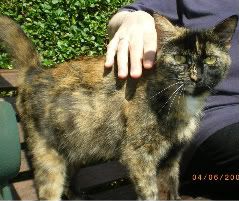 and here's kitty with her 4 new babies...



bye for now everyone
tracy x