DH and I decided that this little guy may help to heal our hearts after loosing all of our dogs except one over the last year. Originally we had said 'no more dogs' Mostly because our hearts were so broken.
This is Tucker, he is a AKC Golden Retriever. We are his third people
He was born December 24, 2007, a litter of 9! The unsold/remaining pups were booted outside after 2 months of age. He learned many things those couple of months, none of them good. We have had him a little over a month now and he is doing wonderfully. We found him on Craigs List for $50 rehoming fee. He was 4 houses down, second owner couldn't handle him and already had a 4 month old pup. They didn't get along!!! Long story but I do want to say this though, he is my new
heart boy. Unbelievable pup, and not just because he is ours! Wanted to share him with all of you.
I will also post a pic of our other Golden, KayLee, she is 4 years old and has a severe grade 5+ heart murmur. We did not give her back to the breeder because they were going to 'get rid of her' due to defect. (Grade 2 at 4 months of age) She also suffers from high anxiety, and panic disorder. We do not care about her issues, we just work with them. She is expected to have a life span between 4 and 6 years.
Tucker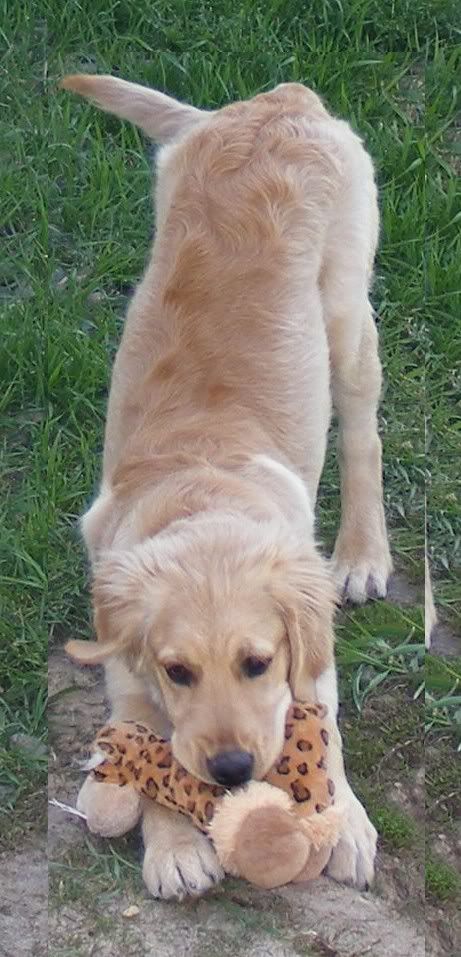 KayLee