Sorry about the lol-speak but I got an awesome email from Gotham Books who are collaborating with icanhascheezburger.com to make an LOLcats book and they wanted permission to use of of Tiger's photos! The book will be coming out this October. I've replied with a yes, of course, to let them use the original photo with my credit! Sooo excited! I'll definitely be looking out for the book in Oct.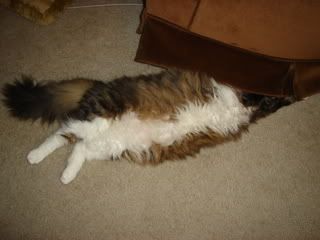 Qwik! get mom nao!!!
itz crushin meeeee!!!
He's not getting crushed, he passed out under my chair during the Super Bowl halftime!
EDIT: Here's the original picture, don't know why the other one wouldn't work.