Hi folks, glad to have found you! I actually administer another forum (not cat related) and spend most of my time there, but.....the addition of a new family member this past weekend has sent me outside my familiar zone and I found YOU guys!
A little about me. I'm a buyer for a multi-million dollar technology company in metro Atlanta, and I am owned by a dog and now a new kitty. When I moved to metro Atlanta from NC, I brought my three college kitties with me. Shasta was my oldest a lovely brown tabby, and he was diagnosed with fibromyalgia in his right front leg (oddly enough) and had his leg amputed and went on to live another wonderful five years with me (but never received another vaccination in his life after that - nor did the other two at that time). I said goodbye to him in December of 2002 at the "young" age of 14.
The next oldest was Chynna, a longhaired calico. I lost Chynna last month on May 5th. I had gone out of town for the weekend and when I came home, I knew that it was time to let her go. She had visibly slowed down the prior week, but she went downhill shockingly fast over that weekend. She was 18 years old.
The youngest of the group was Tyranny. She was mostly white with gray areas on her body - long haired. She was what I called my "autistic" kitty. She loved to be loved on, but the moment you picked her up - her entire body went stiff and pushed away from you. She was also my diabetic kitty and we had many years of two a day insulin injections, which she blessedly didn't mind. I had to say goodbye to her in August '07 at the age of 15.
So, after I said goodbye to Chynna, I found myself catless and lost. I knew I had a trip to go on at the end of May so only 1/2 heartedly perused Craigslist ads for kittens. In the meantime, my beloved golden retriever mix was clearly missing her best friend Chynna and had been moping since we lost her.
I had run to Petsmart this past Saturday to pick up some odds and ends and knew that it was pet adoption day, but didn't seriously think I'd be coming home with anyone. Well, Sammy had other thoughts on the matter.
I, like many others, gravitated to the cute kittens, held a few - but none felt "right" to my heart. I overheard the adoption ladies chatting and one saying "I can't believe that no one has adopted Sammy yet". Being the nosey one, I asked - which one's Sammy?
What a handsome boy! I checked his information tag - "good with dogs - check!" and "needs a companion at home" (I've got that - Diamond dog!!!)
I also was eyeing a pretty little girl named Bean who was very relaxed, even in the chaos of the store setting.
I knew after seeing both of them, I wasn't coming home alone. Called the Dear Boyfriend and said "would you be mad if I came home with a kitten?" He's says "you're going to do it anyway - so go ahead!" (we've been living together since '96)
I went back and forth between Bean and Sammy going "I don't KNOW!!!!" Well, one of Sammy's two foster moms (he spent time with two different women) was there and was able to give me some history on him, telling me how affectionate he was (which you couldn't tell in that setting - he was in information overload that morning), etc. And the fact that she teared up when she was telling me about him told me just how special this boy was to her, and that pretty much sealed the deal for me.
Sammy has settled in nicely, I even have some pictures of him and Diamond sleeping on the bed together last night (a little over 48 hours after introduction) that I need to upload to my computer later this evening.
Diamond is over the MOON in love with Sammy - she has her very own kitty again. Sammy is a blessing for that alone!
Sammy is the type of kitty that HAS to be touching you all the time. Either in your lap or pressed up next to you. I am so completely in love with this boy and it's killed me the last two days at work watching the clock so I can get home and spend more cuddle time with him.
I'm looking forward to many years with my Sammy boy!
Here are pictures - he's 10 months old, and would you believe he started off life as the runt of a feral litter?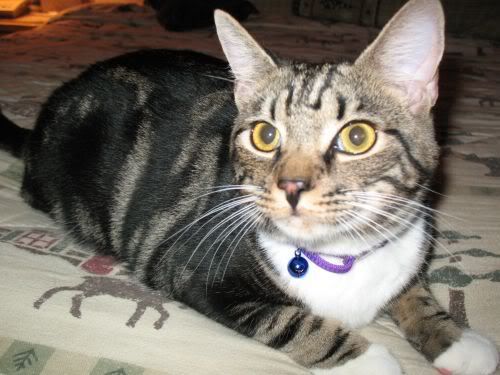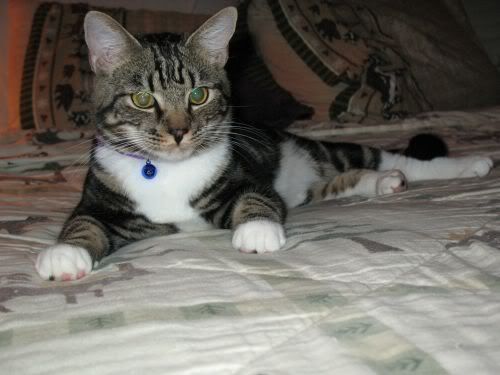 Edit - on the fibromyalgia - I plan to talk with my vet and make sure that Sammy is properly vaccinated with his kitten and first year shots and see if we can also move him away from vaccines as he will never be allowed outside. Going through the trauma and heartbreak of fibromyalgia, I'd just prefer to never risk that with another kitty if I don't have to.