My SO and I both graduated from law school last month and are spending the summer studying for the bar exam. We are staying at his parents' vacation home while we study for the exam. The place is huge and full of nice furniture, so Matilda and Chloe have been given their own "suite" upstairs (a kids' playroom, usually, above the garage). I feel bad that they are up there all day. It's a huge room about the size of our old apartment, but I still feel bad. Matilda is fine because she sleeps all day anyway, but Chloe wants to get out and explore and has been camping out by the door just waiting for it to open.
So out of guilt, I went to Target in search of something to keep Chloe entertained (in addition to all the toys she already has). I bought this little play jungle for only $25. She seems to really like it and for the price it's not bad. I wouldn't recommend it for heavier cats though because it's not the sturdiest thing in the world. A picture of the box (lol):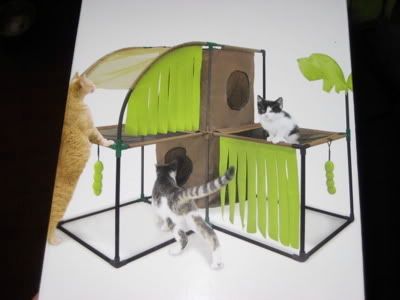 Here is the whole thing put together, I was quite proud of this because it took forever!! They didn't include instructions and it looks easy, but the parts didn't seem to match up the right way. (Oh, and that's the Trendy Cat scratcher next to it, Chloe loves that thing because it's tall and she can really stretch out on it).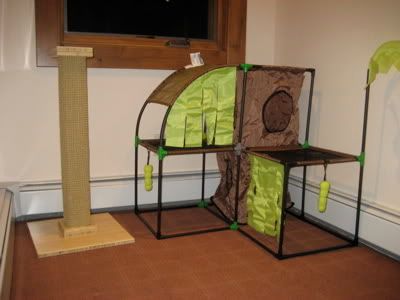 She loves to look out the window, there are lots of squirrels and other animals out there (coyotes, black bears....ick).
Nom Nom Nom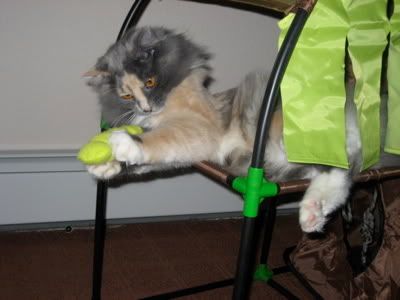 Kitty Attacks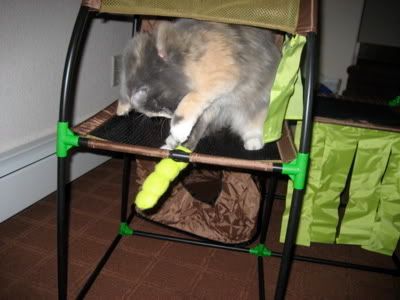 Poking her head up through the 2-level kitty condo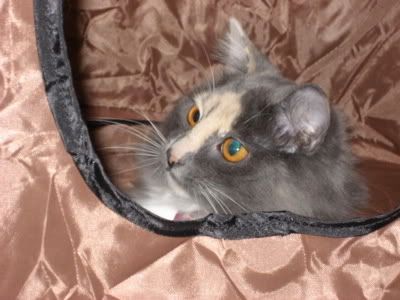 All tired out...(she has quite the main in this picture, lol)
Does anyone else think she looks awfully small for an almost-10-month-old kitty? She is supposed to be 10 months old around June 15th.