Mom adopted a GREAT DANE from a woman who couldn't keep him anymore (for free with food!). He's four years old and nuetured, and he's so awesome! He's great with kids, loves people, likes other dogs, but HATES cats. The cat part we haven't experienced yet. Mom has two cats, but I told her to keep them separated for awhile. That way he can get used to the smell of cats and their presence in the house. I told her I would get on thecatsite and get her some great advice from everyone here!!! So far he hasn't shown any interest in the cats. Granted he hasn't seen them, but he knows where they are. I expected a cat aggressive dog to scratch and bark at the door, but he doesn't care, he just wants to be pet. I also took him for a walk during my visit today and we walked right by two cats. He perked up and got a little excited, but he didn't case after them when they ran away. I have some hope for him!
His name is Onex (sp?) like the black stone.
Little sis, Thor, Onex, and I!!!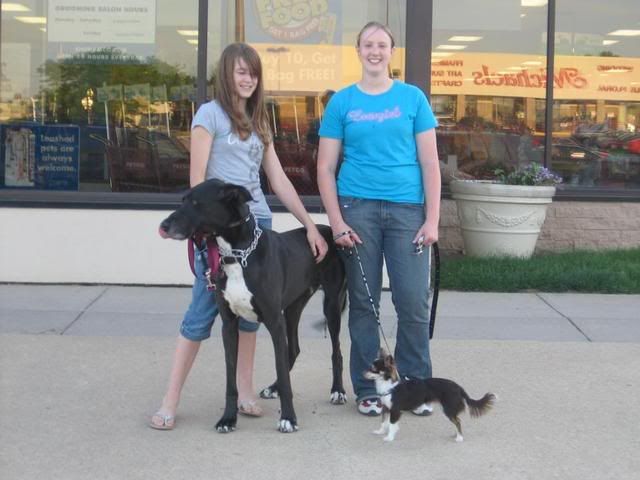 He knows all sorts of tricks, one of them is hug! He's soooo heavy!
Little sis with him. He's moms dog though! She always wanted a great dane!
He's so much bigger indoors!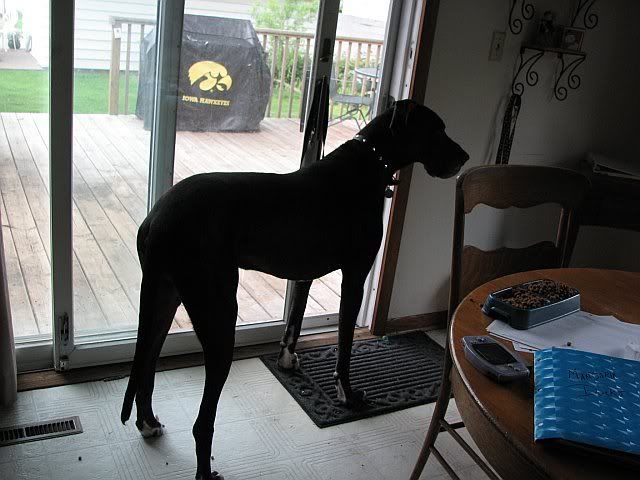 Mom put the food up...he could still reach it!