My kitty was a very special and unique cat, and I loved her more than anything else.
I'm currently travelling around South America by car with my boyfriend (Josh), and previously my kitty (Pelusa) too. We spent a few months living in an apartment in Quito, Ecuador which is where I found my kitty. The day after Christmas we went out to pay the electricity bill and get some groceries. As soon as we stepped outside of the services pay-centre I spotted the tiniest kitten all alone and dirty in the parking lot. She was hiding under cars and we were sure she was about to get run over. Josh managed to grab her and she didn't even struggle to get out of his arms. She just sat there and meowed ALOT. Josh had a sweater in his bag so he stuck her in there and she went right to sleep.
We took her home and she was so hungry she was trying to eat the neighbors dog food which was HUGE compared to this tiny 3 week old kitten. We fed her and slowly she became more comfortable and attatched to us. The day we took her home she followed me around the house meowing at my feet until I put her up on my shoulder so she could see what I was doing. She'd sit up there happily all day. That night she slept as deep a sleep a kitty could sleep right between Josh and I in our bed. She'd slept cuddled up with us every night since then.
We were originally going to take her to the animal shelter but we ended up falling in love with this cat right away. My dad was coming down to visit us so we figured maybe we'd send her home with him.
Well, we ended up taking her on mini-trips around the country and discovered she was quite happy in the car, and she really loved exploring new places. We'd put her down in the gardens of where we were staying and she'd run around happily climbing trees and sniffing plants and never went too far.
We ended up deciding to keep her and take her along for the trip. Maybe some of you disagree with that, but in South America there aren't alot of options for a kitty to go to a happy home. Besides, she was a VERY happy kitty and we loved her more than anyone else ever could.
We travelled around Ecuador and Northern Peru with her in tow. Always happy and snuggled up in the car, and ecstatic to frolick around outside and climb trees. No matter where we'd put her down she'd always come back in the evenings and cuddle up with us.
My kitty loved to play near Josh and I, and was always so happy to see us. She was a very inteligent cat that loved to play fetch, and you could take her for walks without a leash.. as long as you'd keep caling for her she'd follow alongside you as far as you wanted to go. She loved eating plantain chips and guacamole like a proper Ecuadorian cat. She ALWAYS came when called and always ran TOWARDS us when she was scared.
When we found her she was three weeks old. She had a really bad cold, a terrible ear infection, and fleas. She would've been 6 months old by the end of this month and has been healthy as a cat could be since we've had her.
Last night Pelusa ate something poisonous. I don't know what, or where but around 9pm she fell over dead. We tried to take her to the vet but the nearest one was still a 40 minute drive away. When she arrived he confirmed she was dead, and that there was nothing he could do.
I am shocked and incredibly upset. I had this kitty since she was 3 weeks old. I was the one who had to teach her to clean herself properly and use the litter box. I loved this cat more than anything in the world.
She was so loving and so sweet, and such a unique special cat. No cat can ever be anything like her. It's so strange not to have her cuddled up with us under the covers at night time, or begging for pets and purring in the morning.
I have been crying all last night and all this morning. I just can't believe she is gone.
Here are some photos of when we first found her:
Notice the yucky ear infection.
Napping.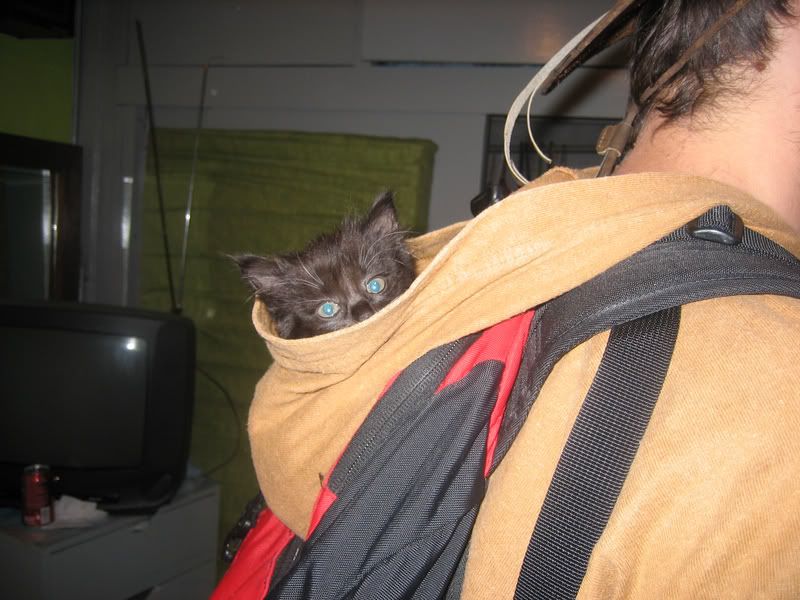 Taking her around town.
Being a shoulder cat.
And a few more recent..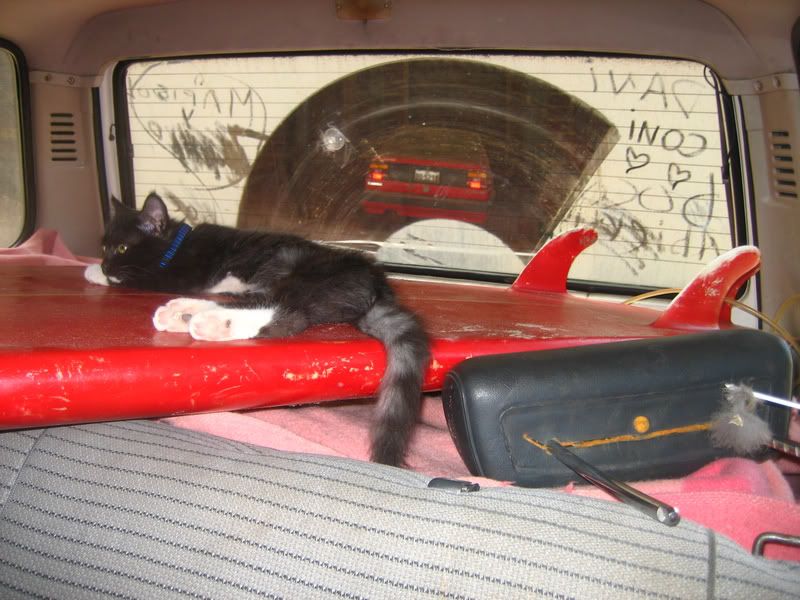 Surfing.
She tucked herself in. I came in to find her like that.
Being pretty.
I'm hoping to get her cremated so we can take her on the rest of the trip with us. I'll have to see if a regular cremater can do it today. Right now I'm still feeling too upset to do anything.