Cheers friends...
I was encouraged to come by here and leave some info about us. I'm a Professor of Media Arts, and more importantly, mom to 3 amazing cats. I feel like being here is somehow placing me on that slippery slope towards being a certified "cat lady"... but I expect that I'm in exceedingly good company.
About my gang:
Phinneus is my 22-lb grey tomcat. He seems to be about 8-years old. The shelter said that there wasnt anything particularly pretty about him, but I disagree... I think he's marvelous. Best thing about Phinney is that he is entirely unflappable. I've never seen him lift a paw in anger. He's also the Boss of our household Pet Union.. and takes his role very seriously. If a food bowl or water dish is in need of attention - it's Phinney who will bring it to my attention. He's like living with a cross between Barry White and Jimmy Hoffa. He's also devoted to me, and follows me from room to room.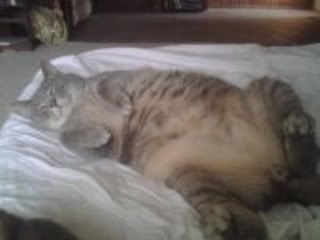 Coco is my 2-year old Calicoco. She's spunky, spirited, and thinks that EVERYTHING in the house including me, Phinney, Murray, and the dog are hers. She carries the confidence of a Princess - her sense of entitlement is both enormous and unrealistic. She insists that all interactions with the other cats are on her terms. Phinney lets her think she's the boss, and Murray is just plain afraid of her. She's a commanding presence for a dainty 7-lb kitty.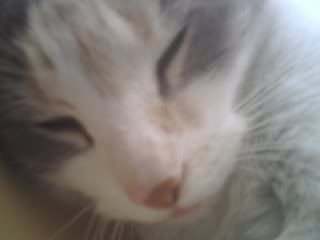 Murray is the new guy. He's been with me for only a few weeks and is a 23-lb Maine Coon. He has a SUPERMAN styled "M" emblazoned on his forehead - he's got a long, soft, gorgeous caramel colored coat, and a tail that looks like a fluffy baseball bat. He's part clown - and keeps the others amused and busy with his neverending need to be part of team sports. If he's playing ball.. we're all playing ball.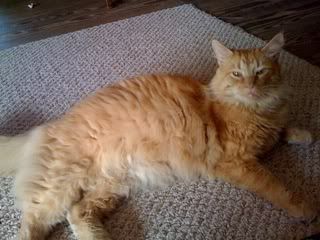 We have a really harmonious home.... when I think about taking a vacation, it's to stay home and hang with them. I've made an entirely unreasonable number of felted jingling ball toys for them.
I'm glad to have found this group... Having 3 cats feels very different from just 2, and I know I'll have questions along the way.
katherine