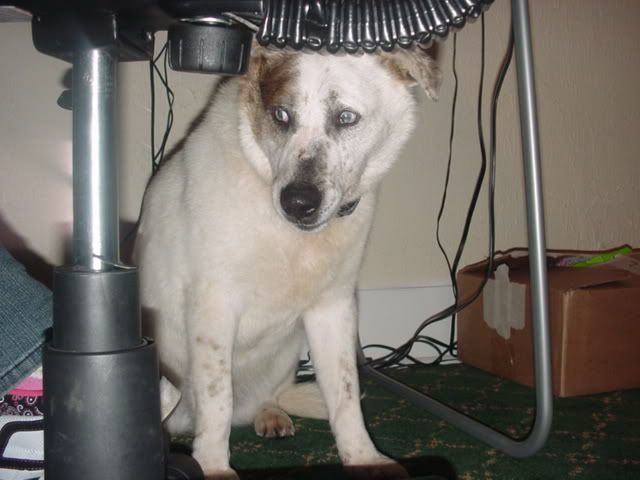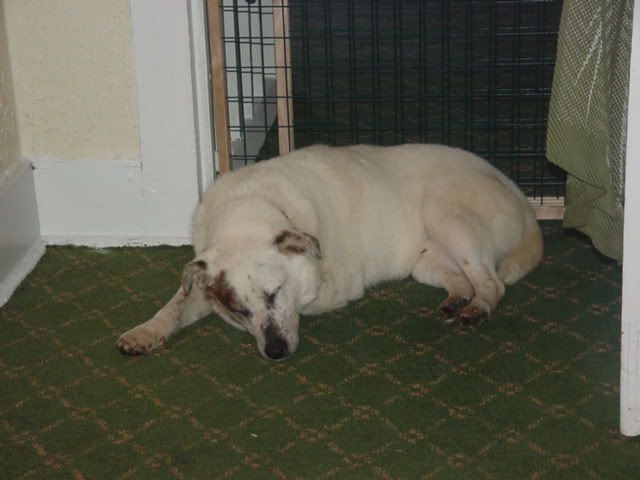 YUP!!!! I GOT TO BRING KUMAR HOME TODAY!!!

So yea I guess between yesterday and today... my boss's agreed that I could adopt him!!!! I bathed him while I was at the Shelter and wow!! was he dirty! me and one of my weekend bosses ((helping me)) had to rinse him 3 times till he looked white! ((he was very good during bathing though! never moved once!))
Then I brought him home... I read online that a blind dog will bump into things till it learns the area... boy did he "bump" into things! I think once we were out of the car and he felt the open space.. he wanted to run! lol he ran into the garage/shed a couple times.. and knocked the puppies over with his chain! Oh that too.. he is fine with other dogs, cats and everything!!
Going up and the the stairs is the only issue... going up: he bumps his head on every step, going down: he basically slides down

We do have Baby Gates to block the stairs while hes up/down stairs so he doesnt fall.

I believe Kumar has some sort of sight... when we were outside and my brother was playing with the puppies, Kumar stared right at him for almost a full min... then in the car on the way home from the Shelter, Kumar stared out the side window the whole time, as if he was watching the world go by, also he reacted to the Camera Flash when I took a pic of him.. every time it flashed he turned to look around.

OMG!! Kumar cleans his own mess!! lol really he does! he prefers his food NOT in the bowl so he dumps the bowl... then uses his nose to push it all in one pile!! its so cute to watch!!!

He really is a smart dog!!
Im trying this thing where I tap my hand on the Floor till he comes up to me then I reward him... its a way of training him to "Come" using vibrations.. and so far its worked every time!!!

Ok more pics now!!

Cleaning his mess..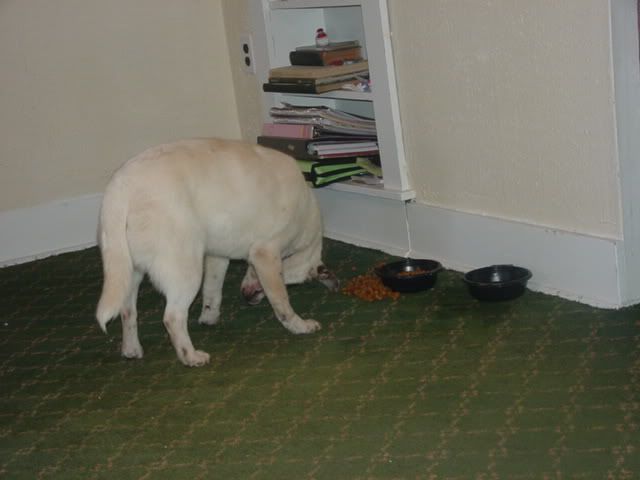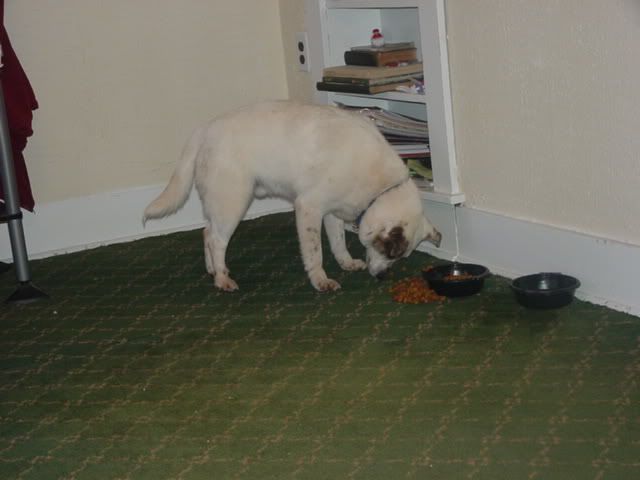 Playing with the Puppies ((I tied him up while taking pics, he gets a harness next wal-mart visit))...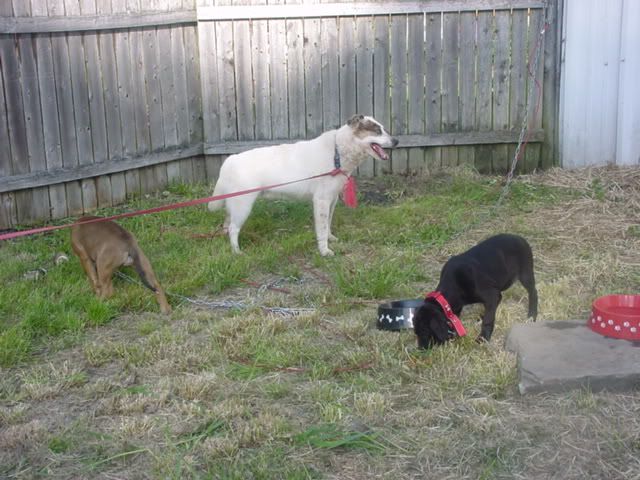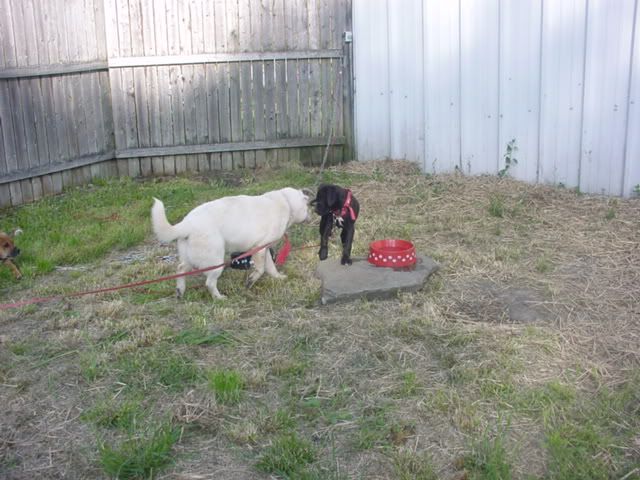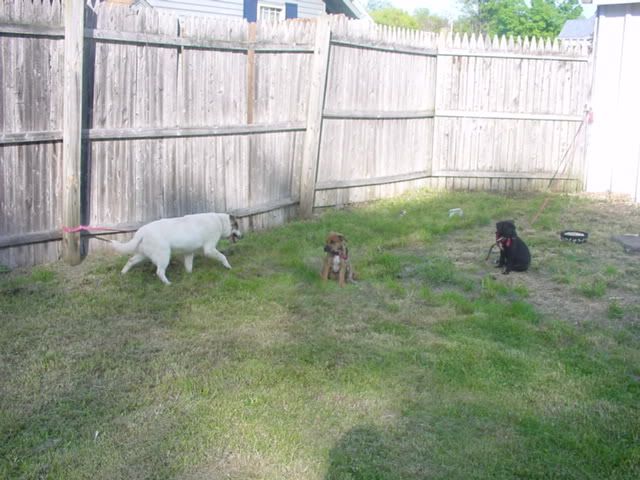 Hes such a pretty dog!! ((Australian Cattle Dog (mix??) is his Breed BTW))...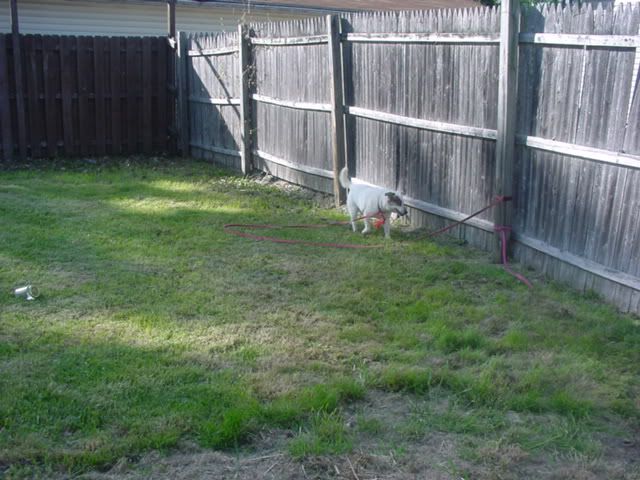 All 4 of the dogs (Kumar's exactly the same size as Bonnie, Kumar just has thicker fur)...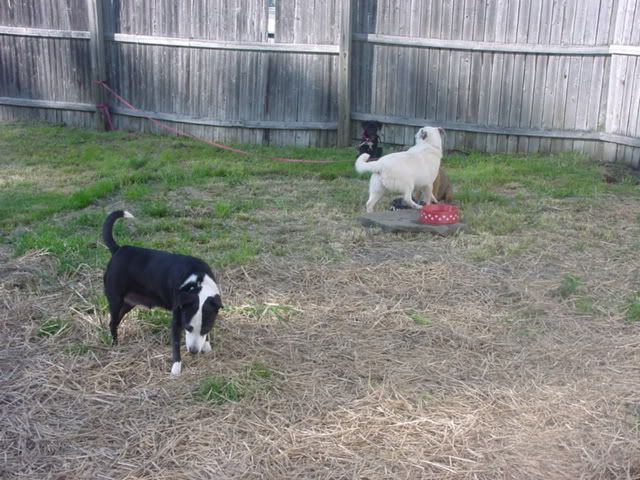 Also, My Boss shows Collies... Collie genetics arnt much different from Cattle Dog Genetics.... and still my boss cant figure out how Kumar doesnt have Hearing yet he has color pigments on both of his ears!! its really weird.
I guess Kumar is called a Double Dilute Merle Something... im not sure exactly but its somewhere around there... Double Dilutes often times come out Blind and/or Deaf ((sometimes worse)).