This was so unexpected that if I hadnt heard my mom say that one special word... id never known she was going to get them!!




PUPPIES!!!!



So my mom comes up the stairs and calls for my brother and she said "Hey you wanna go look at these puppies with me?" I couldnt help but jump up

I got up and was like "what?"... I still didnt know what was going on till we were halfway there. I guess.. somehow while looking for a fridge... my mom came across a FREE PUPPIES add in our area on some sales site ((not sure what site))... and she had made plans to go meet these people.
OMG THERE SOOOOOOOOOOOOOOOOOOOOOOO CUUUUUUTE!!!!!!!!!!!!

There were 7 and its my brothers 21st birthday next week so my mom figured she'd get him a puppy... then on the way there decided "oh man.. Justin's gonna move out and take his dog.. so we need to get one!!"
So now we have Max (black and white) and Ginger (tan and black)... im a lil upset cuz the puppies are only about 6-7wks old... I think a lil to early to be taken from mom but they seem to be eating fine so I think were ok.
Both mom and dad dogs are Boxer/Lab... so there 50% Boxer and 50% Lab.
We were originally gonna get either 2 males or 2 females but my brother was picked by a male and my mom chose a female. That means someone gets the snippy snippy soon.
Ok here are pics!!
Bonnie was a lil confused but she'll live...


All 3 together...


Ginger...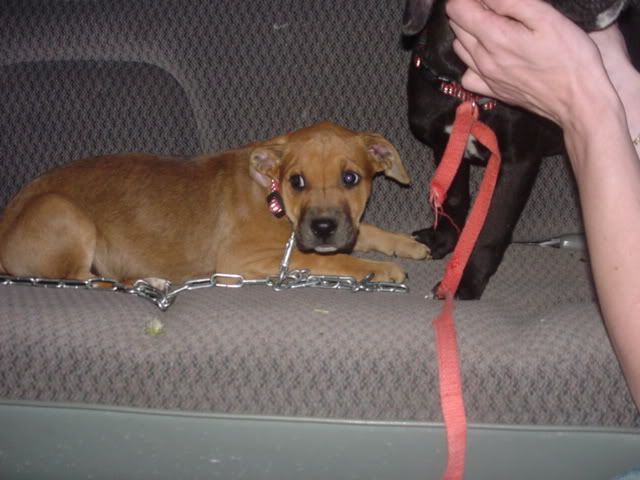 The best pic I could get of Max...


Max and Ginger (Gingers a lil more shy)...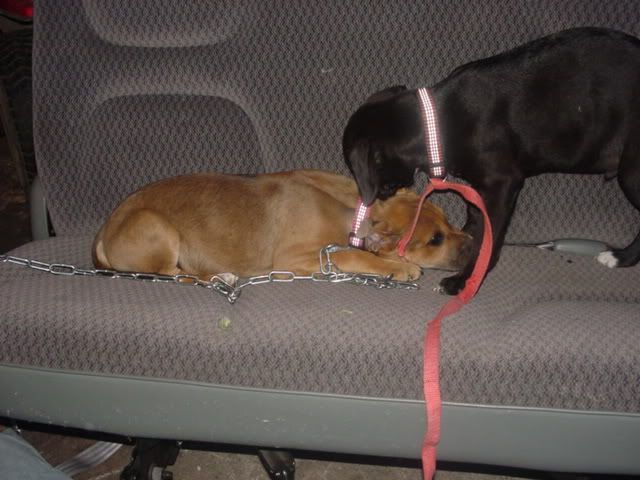 Max was resting his head on my brothers hand, he didnt want to move lol...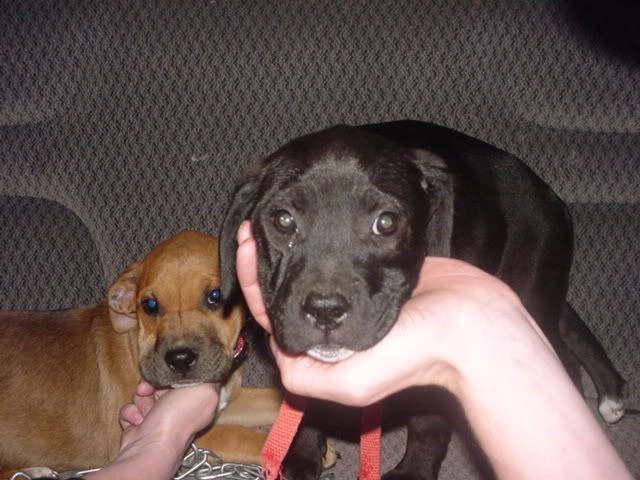 Bonnie saw my brother with treats.. I love Bonnies face in this pic...



Were still getting Kumar (Blind/Deaf Dog).. well my bosses have to talk about it first but if we can adopt him we still are.. were just gonna have a full house for a while
(Max and Ginger will be outside dogs eventually anyway).

Im just as shocked as you are
lol

EDIT:
I forgot to mention that we got to se Max and Gingers Parents.. Dad Dog was huge and beautiful!! but.. Mom Dog was a lil small and looked more like a Lab.
And I found this pic of Max, he looks identical to his dad here...