Hi! I'm Niki, I'm 19 and have 5 cats and an 8-year old puppy.
I'm currently attending college and thinking about Early Childhood Education, Forensic Pathology, or something with animals. I'm very confused as to what I want to be! haha
My Kittens are (oldest to youngest):
Sandy (17-18)
(only picture I have on photobucket of her)
Sandy just went to the vet today, she's lost 2.5 lbs since March! The doctor took a blood sample so we'll find out if we need to change her meds tomorrow. She's on thyroid medications and it's sad to think she wont always be here.
Stinkey Poo Way (11)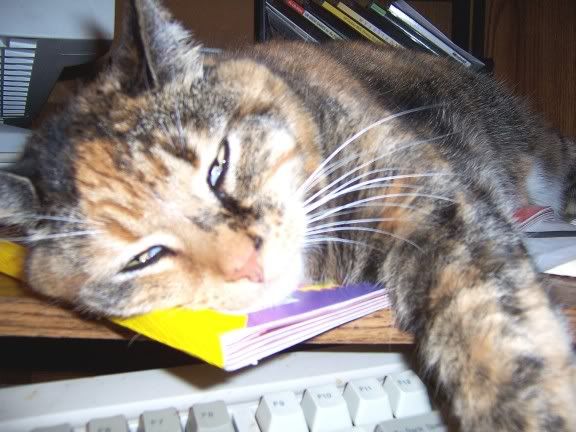 Stinkey's my best friend and the greatest thing to ever happen to me. She's sassy, mean, and the greatest listener! My neighbor's cat had kittens around the same time my father died, and I loved the kittens so my mom thought it would be a nice gift, also so I could have something to talk to. I'm so glad! Stinkey's amazing, and I would do anything for her.
Tiger Way (2)
Tiger came from across the street, along with his older sister Scooter (deceased). The people could not afford to take care of their own children, so their pets suffer. Tiger was born in a box outside and kept in a garage. Most of his siblings had died, except for two other little black kittens. At around 4 weeks, I went and asked if I could take him. The little girl wanted to keep him and call him fluffy, but her dad said I could take all their cats. I would, but my mom would never let me! Tiger loves to go outside and explore, but it makes me uncomfortable so I only let him out when I'm there with him.
Mylo and Panda Orson (9 months)
(Photobucket won't let me get to their album)
Mylo and Panda were found by my friend outside their house. Mylo was protective of Panda and tried to attack my friend when she tried to pick him up. They were very young, and as a result from not being with their mom, it has affected them a lot.
Mylo is a good sized kitten, but Panda is a small little scared boy.
They are both showing interest in going outside. Mylo has been outside, but only with his harness and leash. Panda will hopefully never go outside again!
And here's a pic of my dog. She was going to be taken to the pound, but we took her instead.
Sorry this was really long! haha, I love my kitties!
I've made some videos of them too, if you're bored...