Its Tomnus's birthday today and I am not quite sure what i am going to get him or do for him today, I might clean the apartment if the spirit moves me but i have a lot of work to do today so we will see. Anyway here are a few pictures taken since I got him.
This was taken the night I got him, once he came out from hiding under the bed.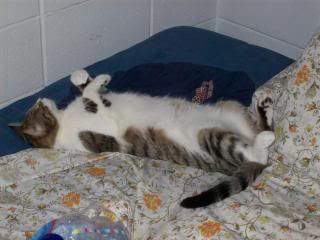 This one was taken yesterday, I turned around and found him sleeping like that...after I stopped laughing I was able to take a picture.
This was taken the other day as I was trying to study...so nice of him to help out.
Happy First birthday Tomnus, my how you have grown.