Lets have a fish pic thread!
My first fish was a Roundtail Betta, who I named Sweeney (I was seaching for a red Betta anyways, just so I could name him Sweeney, lol). He's got the weakest tail, I swear; he's always blowing it out. I finally got exasperated and I switched all his silk plants with live ones, and put stockings over the filter input and output. I thought I solved the problem, as he healed almost to the way he looked when I bought him. Then one night, I checked on him before bed, and his tail was nearly all gone. Tsk. He's healing again, but I'm giving up. I'll just wait for him to blow it out again, and I'll give the proper treatment (Melafix).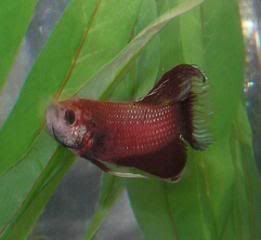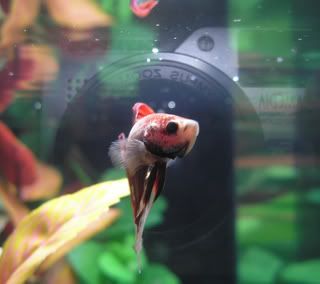 Then I got Leroidesanimaux (Leroy for short), which means King of the Animals. He's a red and blue Crowntail and he's just soooooo cute! They say CTs have weak tails, but Leroy has yet to hurt his tail in any way.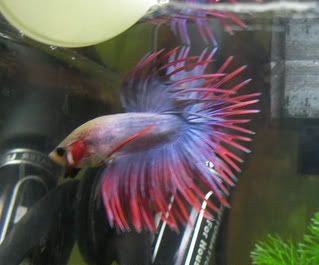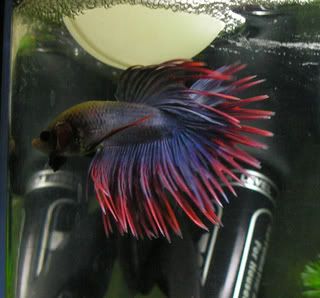 Last week (somewhere thereabouts, lol), my sister's friend gave me her Veiltail Betta, as she couldn't care for him anymore. His name is Ed Gein, after the serial murdering cannibal (the fish ate his guppy mate, apparantly, which is when he got renamed Ed Gein. He was orginally Dr Seuss, lol). Ironically, before I got Sweeney, Ed Gein (or Dr Seuss, as he was called then) came to be fish-sat, and it was my first experience caring for a fish and NOT killing it (in late October last year, this same friend gave us a fish to fish-sit for a weekend, and I ended up killing him, accidently. But it stirred up an interest in fish and I started doing research, and many months later, I finally brought Sweeney home). And now the first fish that I cared for (and didn't kill...) is now mine as well. He's much more ordinary than Sweeney and Leroy, but he's HUGE! My gosh, he's a bruiser! And while he's plain to look at (compared to my other two), when I took pictures, I was shocked at how much color showed up. He's actually quite pretty in a camera's eyes!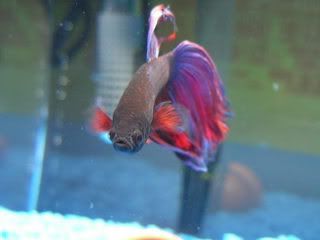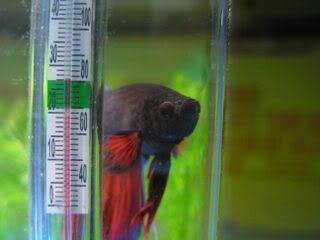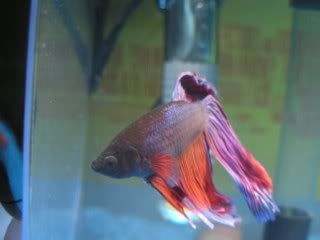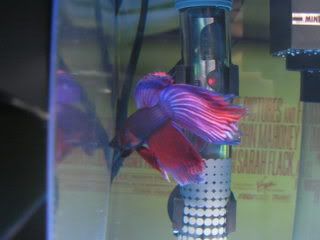 (to see him with your own eyes, he's a dark, dark blue, with a hint of red in his fins. So not much color, until you get a camera's opinion, lol)