Oatman bills itself as the ghost town that wouldn't die, an old gold mining town along old route 66, a total tourist trap now.
It's biggest attraction is the wild burros that have adopted the town, all of the shops sell big bags of carrots for tourists to feed the charming little donkeys.
I got a chance to visit, and it's a very charming place, at noon every day there's a gunfight in town.
I totally forgot I'd brought my camera until it was over, but here's the sheriff (bloodied after the fight, though he won).
6 pictures total, all thumbnails for ease of loading
Here are some of the burros.
All the adults girls are pregnant, most are going to drop their babies any day.
And yes, they are friendly, but they are wild.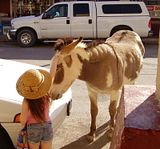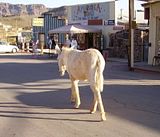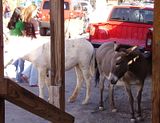 And this is a very strange looking burro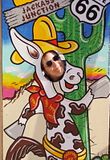 Hope you all enjoyed my little tour of Oatman, it's a really interesting place, you can read more about it
here
I hope to get out into the desert itself and get y'all some pics soon of the beauty of the barren land.