A stray kitten made its way to our door this morning, I thought I had made a mistake by letting it in, feeding and cuddling it, but it turns out this little brown and black tabby girl is lost. I went to both next door neighbors on either side and checked if she belonged to them but she doesn't.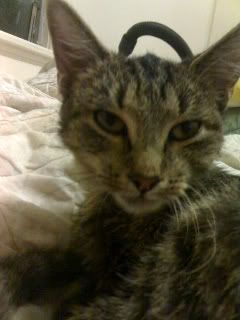 I've nicknamed her Kairi, and she is so lovely and friendly, and follows you around like a little puppy dog. I'd love to keep her but with 4 cats already, one living with me, and a small flat where I'm not really allowed animals.
Of course tommorow I'll put ads out because I am sure she had a lovely family, she has been fed, and loved and is happy.
I am just worried about my cat Sable that lives with me, she is used to being the baby and is not happy, she is begging to go outside (but its nighttime and she always spends nights inside) she's not really been hissing or threating to fight Kairi at all, only when the first met. Sable just sits at the door and watches her, then sits at the door meowing.
I am a cat lover and this is breaking my heart, what should I do in the meantime to keep my baby Sable happy? I am worried she will run away thinking I don't love her anymore. She probably thought I was giving Kairi too much attention when I was bathing her (because she smelt really bad) but I gave Sable heaps of cuddles too.
What should I do?