Two weeks ago, I took in my first foster kitty. Christy was totally stressed out at the shelter--hissing at other cats on sight and sleeping in her litter box, which had caused her to breathe noisily from the dust and irritation. It didn't help that I had to clean out her ears when she came here; she's still suspicious and I have to convince her that I won't touch her ears every time I pet her! She does love to be petted, though. Once she knows you're "safe"; she pushes her head against your hand and purrs so quietly you have to put a finger on her throat to feel it.
Christy has been settling in. She's eating well now (I had such a hard time getting her to eat initially!), though she still likes her hiding spots.
She's shy, quiet, sweet... except at feeding time! I've actually tripped over her while getting her food to her feeding station! Despite that, she's finicky--she'd eat nothing but kitty treats and the gravy off Whiskas pouches, if she had her way. Thankfully she's been eating the meat *and* the gravy, and taking a bit of dry food occasionally. I'm being sneaky and mixing some dry in with the wet!
Christy is a bit afraid of other cats. When I first got her home from the shelter, she hid a lot. I think she must have been very stressed out by the other cats there--over fifty of them!--and coming here, with two others, she's relaxed quite a bit. I think she will do well in any house with quiet cats, where she can find spots of her own.
Here she is, not quite sure to come out from between those soda boxes and my fridge.
"Hmm... I think I'll try coming out. It looks safe."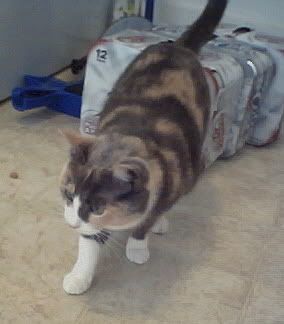 "Oooh, a toy!" It's actually a kitty leash, but Christy loves to play with it when it's dangled nearby. She swats at the leash almost daintily. The only times she really plays hard is when catnip is involved--a sockful of stuffing and catnip receives bites, bunny-kicks, and claws! Apparently, she didn't play at the shelter--another first.
"...or maybe I'll investigate these kitty treats..." Christy loves treats. Initially, they and wet-food gravy were all she would eat. I fed her quite a lot of treats until her nose cleared and her appetite came back! Here, I was using the treats to coax Christy to pose for the camera. She spends a lot of time under things, and it's hard to photograph her there.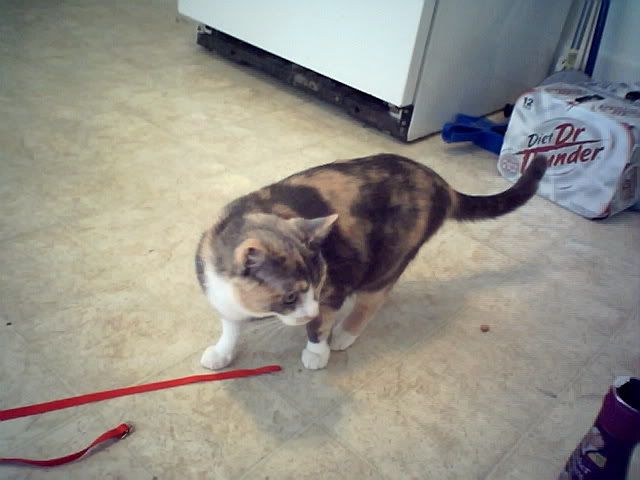 "Yes, I'm fully litter-box trained!" She is. Christy's never had an accident in the two weeks she's been here. She does tend to try to dig for China, though! She would probably appreciate a nice deep litter box.
"Hmm, what's outside this window?" She's only recently had the courage to look out the windows, but she often spends an hour at a time gazing at the outside world.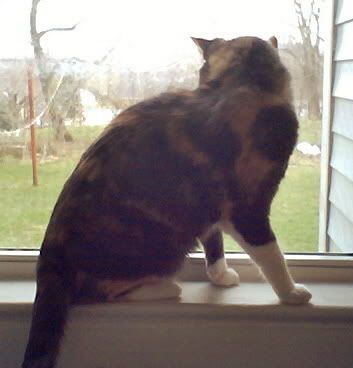 And a final first... a bad picture, but photographic proof: Christy is actually touching noses with Baby Girl, one of my other cats! In the background is the dog crate we originally used to isolate her. Now it's only closed during mealtimes, and she lies in it to relax and get away from the world.
So... Anybody in the market for a beautiful, sweet little dilute calico?
If you are interested in adopting Christy, the shelter can be contacted via the information on their Web site:
Animals For Life