I'm posting this because I get questions about them often when I post pics of our kitties.
We really do have wonderful cat trees. We bought them over a period of about - 6 months? from a local pet store that was going out of business.
Unfortunately, I don't who the manufacturer is - but I'm SURE they're available somewhere online, because they are AMAZING. They are so well built it's not funny. We've had them about 4 years now, and they're barely showing signs of wear. We just snip of any nylon ends the cats pull out from scratching on them. We vacuum them and wash them with an upholstery cleaner - and they have really stood up to the wear and tear of all that AND 6 cats CONSTANTLY scratching on them and jumping around on them.
There's a whole series of them - I don't know if I have pics of them all. But here's most of them:
The BIG platform tree: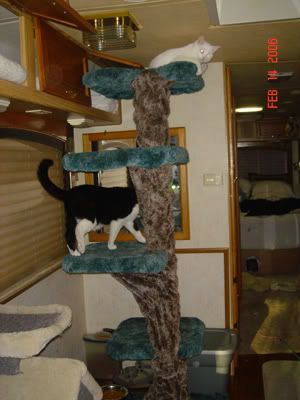 The "box" tree (with hole on top - cats pop up through it or lie on it - or poke up through it at someone lying on it.
) next to the castle: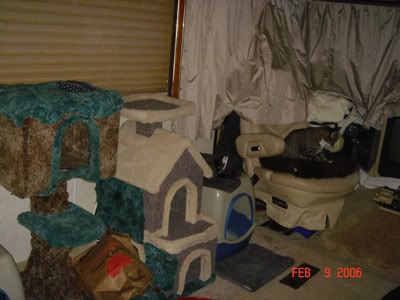 Ming Loy enjoying it!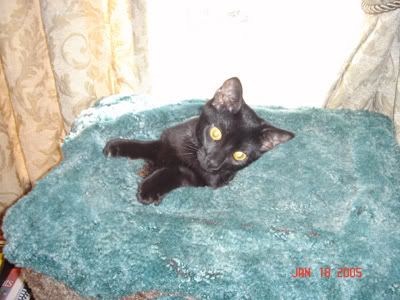 Small tree house next to castle:
Tall tree house: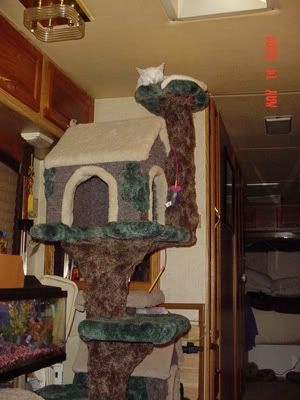 And there's another platform one I don't have a picture of - it's exactly the height of our bed and has two platforms. The one on top is the perfect size for a kitty bed - and helps make enough room for all six cats when they sleep with us in our queen-sized bed.
Laurie