Hello,
I don't know if anyone will remember but our cat Pixie had 4 kittens in August last year. She had 2 gingers, a black and a tabby, I posted regular piccies!
Well everyone found it hard to believe that Ziggy (we named him) was a boy as he had so much ginger on him! But he definately is a male, which we did suspect from an early age and the vet kept confirming this! A vet saw him for his castration last month and said he's the nearest to a tortie she had seen a male be with his colourings!
Also if you remember he had trouble with one of his eyes, from just 2 weeks of age he developed an infection that we tried treating with numerous anti-biotics but none seemed to work, in fact his eye just worsened. We weren't going to keep any of the kittens (we had 4 cats already) but what with all the expense of taking him to the vets and then we obviously became so attached to him we just couldn't let him go!
Eventually our vet said that his eye would have to be removed (he was only about 8-10 weeks old at the time!) as there was nothing more they could do. Luckily we took him to another vets to get a 2nd opinion. Thankfully we met a wonderful vet who couldn't believe that we were told the only option was to have the eye out! She said she could perform a perform a procedure where she could remove the membranes that seemed to be covering his eye! In December she did this and it was a complete success! Most of what she removed was his 3rd eyelid which, for some reason had grown accross his eye and in fact the eye itself was completely fine!!
We were so relieved and he is now a healthly, bouncing, always getting into mischief, spoiled 7 month old! His right eye is still a bit smaller than the other one, thats just because the opening stayed tight and shut/small from when he was tiny it didn't grow with him normally like the other one, but time will tell whether it will catch up in the end! The main thing is that he can see! He has both eyes and is just like any normal cat!
Here are some pics - one from when he was small and a recent one! Just thought I would tell everyone a happy story!
This was when he was about 6 weeks old: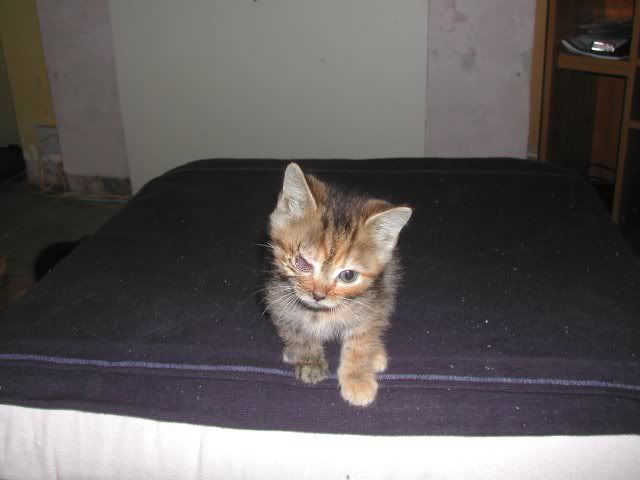 This was him a few month back;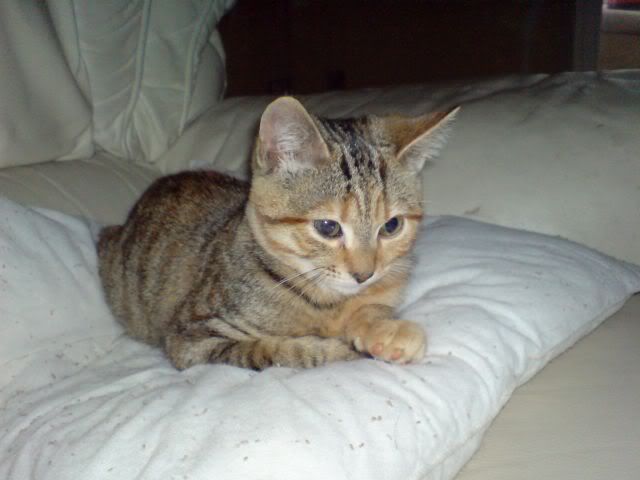 and this is a more recent one;