MODS - I tried and tried to resize on Photobucket and the images still come across as too large here! Can you Help!?????
I finally remembered to take my new digital camera to the adoption center at PetsMart. The lighting in there is just awful AND I am still very much climbing the learning curve with my new toy!
So here are some of our current residents (inmates!)
This is Carmel. She is a 6 month old odd-eyed Calico. Shy but very, very sweet!!!
This is Scamper. He's a Maine Coon mix - I think. He's such a goof. Sweet boy with a brick in his butt.
Can't jump to save his life, kinda hops on his back toes to get anything that is dangling!!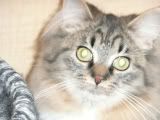 This orange tabby is Peaches, a two year old female with yellow eyes. She is a VERY smart cat but kinda stressed out in the adoption center. She was a stray and was rescued by a nice lady. She really, really likes sitting in my boyfriend's lap!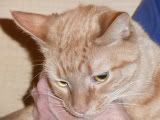 Next is CJ, an orange tabby and white female. VERY shy, but also very sweet. Gives world class nose kisses. Here she is in my BF's lap.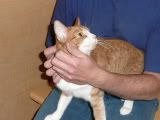 Finally, we got three black five month old kitten brothers who are MANIACS!!!!!!!!!
Hard to photograph, they were little black blurs!! But Akon, who I think is the alpha, sat still for a minute or two on top of one of the cat trees. Here he is: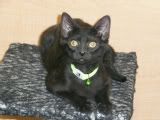 I think Akon and his brothers have Siameezer blood -- very lean cats with loooong thin tails and wiry back legs, short, suede-like hair.
Enjoy!!!
Adrien