Okay so I've been working on the safe room for my new kitten. This is where she will stay when I'm not in the house to watch her so I'm trying to make it as safe and comfortable as possible. I've taken pics of most of the room for your safety input. It's been a LONG time since I've had a kitten but I think I've got it covered for the most part. Unfortunately this is an office space but I've done my best to make sure nothing can fall off of the shelves if she jumps up them. I've also covered every cable/cord in the room with the exception of a coax cable to my tv. It's up high and tight against the wall so I'm really not concerned. My cat never liked coax cables only the thinner/softer plug cables. It also doesn't move so I wouldn't think it would be very attractive to her.
Any input is greatly appreciated!
Pic 1: Here I have her a tent bed in the corner (homemade!), a tall scratcher and a floor scratcher, Dr. Foster & Smith's cozy cottage (made completely out of double corrugated cardboard with four levels and a roof). The blinds (2" plastic type) are down but the cord is put away up high and the frames on the wall are held in place at four points.
Pic 2: This is the other corner of the same wall where I have a very tall bookshelf. Her crate is on the floor and I plan to remove the long strap handle and keep it open for a second bedding option. I also have a cube for her to play in.
Pic 3: Here is the computer desk. I have a large piece of cardboard covering all wires behind it and it is very secure. I have the litter box under the desk and was planning to feed her on top. I still have to get a second bowl and place mat. The monitor has no exposed cables for her to get at either.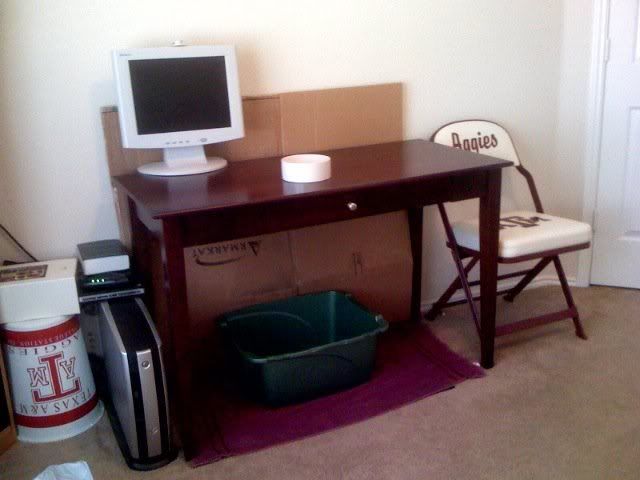 Pic 4: Final pic of the remaining corner of the room. This is the TV stand with another bookshelf. Here you can see the taut coax cable. There is a printer at the bottom but no cables are attached. I have the trash can turned upside down with a HEAVY thesaurus/dictionary to keep it secure. This is just extra protection to make sure there is no way to get behind the cardboard to the wires.
Specific questions I have:
1. Is the food too close to the litter box? I know they like them separated but I'm not sure if this is far enough.
2. Are the curtains tied up high enough?
I know this is long but I would really appreciate input on this. I don't want to make any mistakes that could harm my new baby. Thanks again!