I love living in Montana, I couldn't imagine living anywhere else. I myself live in town right now and I hate being in town. I grew up in a place called Lost Prairie. My parents have 40 acres and a log home there. Growing up, we had cows, chickens, turkeys, and a herd of 24 horses. I really miss those days. In a year or two, when my husband and I have some more money saved, we are moving back there. We are going to build on my parents property. My mother needs the help, I have a feeling with her spinal problems it won't be many years until she is confined to a wheelchair. I want my children (hopefully) to have the kind of childhood that I did. Don't laugh, but growing up for me was pretty much like "little house on the prairie". I even went to a one room schoolhouse until the 9th grade. Here are a few photos of Montana, all of these photos are either in my own back yard, or no more than 40 miles from where I live.......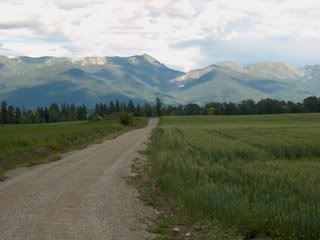 This one is actually IN town......
And this one I took last fall, I was standing right outside of my parents front door. My Mom has this view fron the kitchen sink.
Ok, I'll shut up now. I just love my home state!