On the advice of a senior member I'm taking my health question to this area. I'll try to keep it at short as possible because I have the tendency to be long-winded, but inevitably this will be somewhat lengthy because I need to give back history and symptoms in hopes for some solid advice. If you have a few extra minutes and feel like dropping some knowledge I'd be grateful for whatever contribution you make. Thanks in advance!
So my neutered male cat Cooper, is needless to say, extremely important to me. I've raised him since he just opened his eyes. He has big huge beautiful eyes and is a very proud and well mannered feline. He is extremely interactive and nothing like the stereotypical independent cat. He has won my heart fully and unconditionally, and I will literally do anything for him. Unfortunately I free feed him an open buffet of both kibbles and canned food every day and his weight has suffered.
He is very strong and not THAT fat, but combined with his 3'2" length (snout to base of tail) and generous muscle; he has shot up to just shy of 38lbs! This was all well and good until I just became aware of some symptoms that I'm pretty sure can be attributed to his obesity and not genetics.
He has become blind! I only figured it out 2 days ago, but now that I am aware of it he's been having sight issues for about 2 weeks. He peed in the living room for a few days, obviously because he couldn't locate the tray, and now won't sleep on my bed anymore (3' high). His pupils are fully dialated and won't respond to a torch or finger even 2" from his face.
My biggest worry is that this is the onset of something far more life threatening. My best guess is that he has high blood pressure and aquired the "sudden blindness" associated with hypertension. I am also worried about the beginning of kidney failure because he's always drank a lot of water. I've always attributed that to his generous stature though, and he only pees once a day. He could have an overactive thyroid because of his unnaturally large stature. Below are pictures of before and after his eyes started giving him problems.
If anyone has any input or knowledge I'd be grateful as I'm still quite the newbie as far as feline disorders go. All I truly know is that his brother Sampson and I really miss our playmate. He used to be playful, active, vocal, and have his own little attitude. His purr could rattle the windows of even the most sturdy house.
He's still the same old Cooper in some aspects, but now he pretty much just sleeps and goes back and forth from the litter tray and food bowls. He used to have a love for playing with my simulated prey I designed for him and now won't so much as lift a paw. He seems depressed and that shreds up my heart in the worst way. I'm terribly worried about him and have been very sad since I realized what his issue was. He's going to the vet tomorrow, but any suggestions or advice would be much appreciated. I guess I ended up writing too much again lol. Thanks to anyone who has made it this far.
Pics of his eyes then: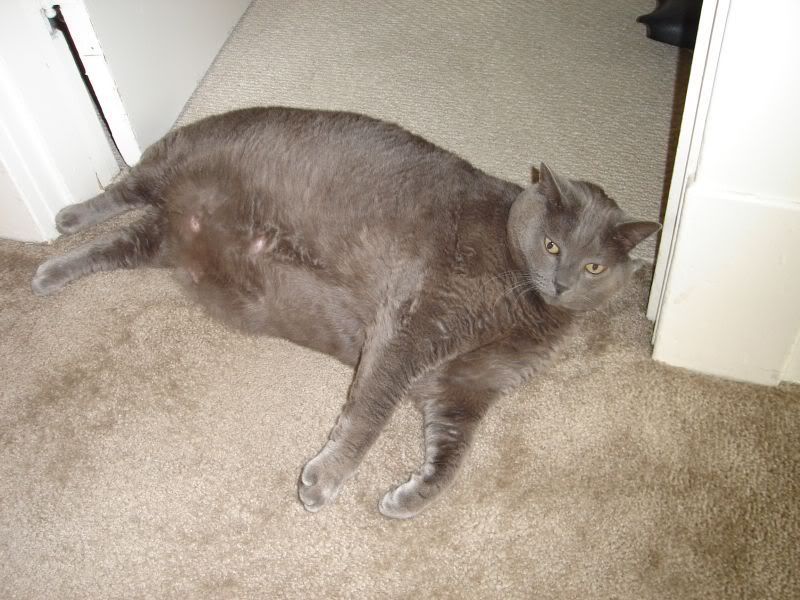 Pics of his eyes as of last night: