This is how I store their dry food. Chloe used to have a different container but she was able to open it so I had to try a new one.
These are under the built-in "desk" that my apartment has. If I had one, they would be in an actual pantry.
I keep their wet food cans in this little basket I bought at Target. (I have other identical baskets that hold their grooming stuff and their toys). When I took this picture, Matilda heard me get out the basket and came to be fed.
This is all the wet food I have for 2 cats and it is 1/2 of their diet. I used to have this just stuffed with cans and then I had an additional shopping bag full. I had to try really hard to not buy so many when I have more than enough to begin with. Notice Chloe's bite marks on the edges
The only wet food I stock up on is Wellness (for Matilda, Chloe won't eat it) because I can't buy it where I live. When I visit my mom I will buy a lot and bring it home.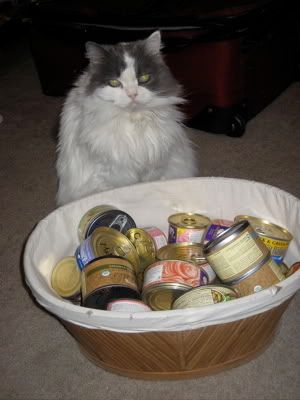 These are their treats. I have to keep these in a cupboard because otherwise Chloe will rip them open with her teeth. She can open anything it seems! Matilda also came to investigate when I took this picture. (Oh, the only treat missing is the Pity-the-Kitties freeze-dried chicken from the Three Dogs Bakery. Not sure where that went but I suspect Chloe has something to do with it being gone...)