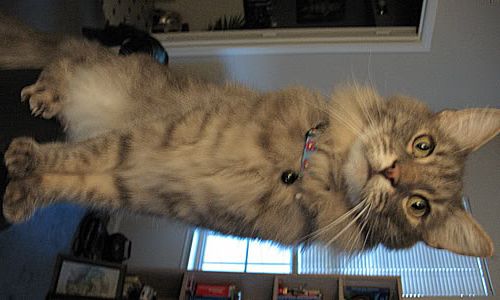 Sir Widget of the Fuzzum Wuzzum is looking for a new home.


Widget has steadily been becoming more and more aggressive to my other cat and I do believe it's time for him to find a loving new home where he can be by himself or with a doggie companion. He just simply cannot adjust to life with another cat.

Widget is a 6 year old altered male, loves people, is just fine around dogs, but cannot be with other cats. His favorite place to sleep is either in my hair at night or between my legs. Widget is up to date on all vaccines and is clear of all medical problems.

I've owned him since he was 5 weeks old and I bottle fed him. He is a Maine Coon however he does not come with papers.

I've loved Widget for many years now, but its time he finds someone else to love him. It is just not fair for either cat to put each other thought his torment every day.

Thanks, if you or anyone you know would be interested in giving Widget a good home, please just let me know.

I am in the central NC area. I will drive and deliver him to you if your willing to take him. I love him, but he's gotta go
.