Well, I did it. I will be moving into a different apartment soon. This studio I am in now is 350 square feet. The new place is 608 sq ft so the cats will have more room
It will be $80US more per month so I am giving up my high-speed Internet and cable TV. I am hoping to get a Wi-fi card for the computer and really hoping I will have access to the free wi-fi in the area. We will see. Will still have access at work so I won't have severe withdrawals
The new place is only 3 blocks from a Safeway and 5 bocks from Trader Joe's
No more taking two buses to buy a loaf of bread. Is also just a 10 minute bus ride to the pet food store. Is about a 4 minute bus ride to my mothers - nearby but not next door
The new place isn't anything fancy but it is much roomier and I love the location. It is all electric and they will be putting new windows in that will better insulate. I have enjoyed having gas to heat and cook with but I can live with electric.
Best of all, this place has WINDOWS. Five of them to be exact
There is so much light compared to what I have now. I want to try to hang a bird feeder outside the bedroom window for some kitty TV.
It is a corner unit on the second floor so fewer neighbors - just below and on one side. I have very little in the way of furniture but will worry about that when I get all moved in. I often see stuff listed for free or very cheap on Craigslist - just a matter of arranging a ride to get it before its gone.
Anyway, I am ecstatic! I really feel like this will be a good move even if I do have to eat even more cheaply to afford it. After living in this tiny box for 2 years, I'm more than ready to spread out just a bit.
Here are a few photos the property manager took.
Front entry to living area with a small dining area off to the side. Has been years since I had a proper eating area
This is the kitchen from the apartment next door - my cabinets are different but the layout is the same. Taken from the dining area toward the bathroom and bedroom. Nice long area for Daphne to play fetch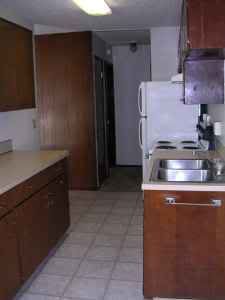 And, the bedroom - an actual bedroom! With a door!
This shows about a third of it.