I've had sad news on two family dogs this week! I'm sorry this is a little long, but it's about both of them.
First I heard from my MIL that their dog Jake, who I just adore!, is not doing well and has some kind of cancer. He hurt his paw about 2 weeks ago and had to get on some antibiotics and then last week he suddenly went blind. My MIL noticed him bumping into things and when she got a good look at his eyes, the whites were blood red. I guess some medication has helped that and he's seeing better now. She said she's always thought his vision was a little bit off. But his blood work wasn't good still. They are going for Prednisone (sp?) treatment for him. The vet guessed he'll have a few months with that. He went for a good run in the field behind their house yesterday with Molly (their other dog) but was
'looking sad' after that. He's about 8 or 9 years old by my count.
Jake is just one of the best dogs ever! He's a Boxer/Shepard mix and loves to try to sit in your lap! Especially on the porch swing in the backyard! I like to sit out there with a book and enjoy the view. It's very peaceful. Jake tries to sit with me (sometimes he does get up) and I throw the ball or Frisbee for Molly. It's our nice special time.
So that was yesterday's news. Today after Church Mom said again that Tasha, our dog, isn't doing well. She's like 12 years old now (I'm loosing count with these guys!) and has been having some problems, but the vet just a month ago said he saw her living at least 3-4 more years. That was after he did blood work on her! She's always had weak hips and the past year or so her back legs shake when she's tired. She's lost weight, but the vet said it was good and she was healthier. She's got some fatty pockets that we were told to keep an eye on, but they've stayed the same too. But now she's not eating, and throwing up when she does. She's also very slow to get up in the morning. She's still getting up and down the stairs OK and has been playing some that I've noticed. I need to get over and see her today.
When Tasha was at the vet in January they gave her medication for a bad ear infection that the vet said could cause some treatable side effects, one is a sore on her paw, which she's going to be seen for on Tuesday. So Mom is having her totally checked out again then. I guess she's drinking fine. The not eating thing is what's scaring me the most right now. Tasha eats everything normally. Even things she's not supposed to eat! She's even eaten a whole bag of chocolates before and been fine! (Several years ago when my step sister left her bedroom door open!) But she hasn't gotten into anything that we've been able to tell. I guess when the blood work comes in from this visit we'll know more. What a week!
Here's a picture of Jake. I took this from the porch swing in their yard.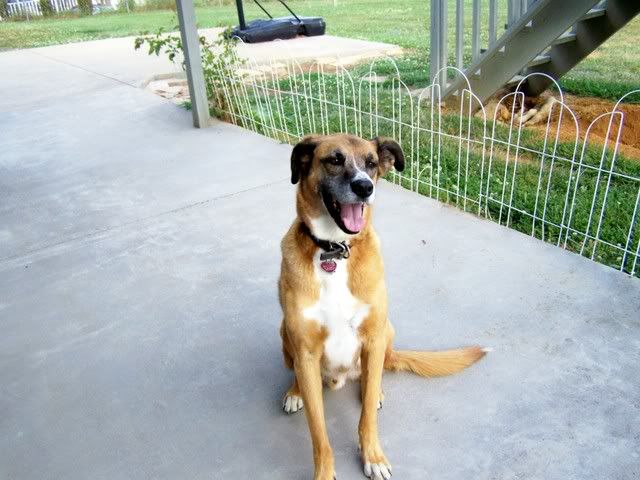 Here's Tasha 'hiding' her paws because my Mom had out the clippers to do Abby's nails!
Hence the pitiful expression!
This one is a few years old. She's sitting good here, but usually she sits to the side kind of.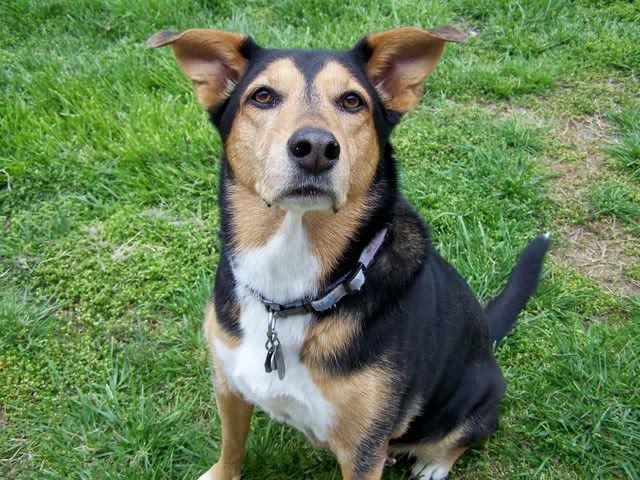 So these are my babies that I'm real concerned about right now. DH and I may be going to visit his family in April, so I hope Jake is still with us and doing well then. Otherwise we won't get to see him. We also need to get down to see DH's Grandmother, who's not been in the best health either.