I was going through some pics tonight and found these and wanted to share. They aren't outragously adorable, but this cat is just a love!
Anywho this is Tyler. He lives at the barn and he is an awesome, awesome boy! He showed up [most likely dumped off, people think "oh a barn!"] at the barn and was a mess. He weighed about 3lbs. [He's now 7lbs] he looked like a kitten but looking at his teeth he was probably 9mos-1yr old. He had an infection in his toe and he was wormy and needed to be neutered. When I brought him back I put him up in the loft and he would not come down for anything. Once in a while he'd sit on the stairs but if a person came in he'd run upstairs and hide. He'd be totally chill if you came upstairs, and a total attention hound, to the point he would give you love bites and grab at you if you stopped. I got him neutered which settled him down a bit, but now he wanders all over the barn [but doesn't stray far away]. He'll hang out with you while you're washing your horse, or play with the lead rope while you're brushing your horse, or even help you clean your stall because all he wants you to do is love on him. It's amazing how he went from being scared and hardly touchable, to just loving on EVERYONE and EVERYTHING. The barn owner even just got a lab puppy and they play together. He's such a cool cat, tonight he was crawling all over my tack locker and I started petting him and he just can't get enough.
So long story aside, here's a few pics of Tyler. I wish I had pics from before because you'd never believe he was the same cat.
Arching his back and being a ham because he wants to be petted.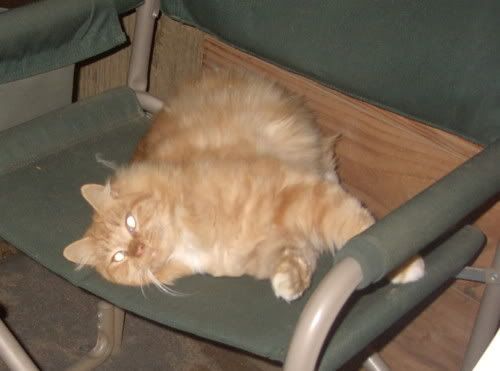 "Touch me, touch me! I'm cute! I'm making biscuits! Just pet me!"
"You can touch me too, I don't care! I just wanna be buddies!"