So my cats are shedding and since Ive got six I thought Id start brushing them now and maybe Ill have them all done by spring. So I get out my furminator which I havent really used much before and started brushing Kinky. I figured it would pull out the loose hair just like any other brush. He was purring and happy and loving it so I kept brushing because hair kept coming out.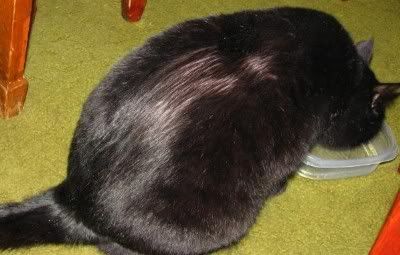 I just want to go sit in the corner and cry, I feel so awful!
I dont remember reading a warning on the furminator package that said it plucked them bald if you just kept brushing!
I keep thinking maybe cats are supposed to be bald only noone brushes them well enough to know it! I cant be the only person thats ever done this right?
(Id like to point out that it doesnt look that bald unless he's in a sunbeam (or a camera flash), which is why I didnt notive that I was balding the poor cat (and in the middle of winter))