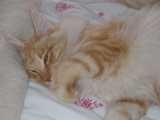 Hello
We are new owners of a 1.5 year old beautiful male Maine Coon, his original owners needed to rehome him as he was attacking his mother. We know that Maine Coons can be a bit nervous of new people, however we now need to ask for any help in getting him to accept us and his new home.
We have had him for a week now and he will not come out from under the bed. He only comes out at night when we are asleep, or to use his litter tray. I have lay there talking to him and playing with him with one of his favourite toys. He allows me to stroke him under the bed.
We know that it may take a while for him to come around but are looking for any ideas to help. We do not bother him too much as we dont want to put him through too much stress. I am waiting for a delivery of Feliway which is suppose to help relax him and help him through this process.
I have got him to take some of his food from my hand and not tried to do anythink, just so he can see he can trust us. He has eatten the food but still will not come out.
Any advise and help anyone can give us, will be greatly appreciated.
alyson