We lost our 5 year old Turkish Van named Taffy to a blood clot.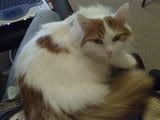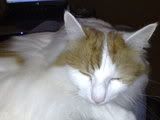 It was sudden and very distressing. Taffy was regularly checked at the vets so we were happy knowing that he was a fit young cat. Full of energy and always supprising us with his antics. From biting my partner toes gentley to wake him up and feed him, sleeping in the bathroom sink to bringing in little friends (mice) for us etc.
It was a normal day nothing had happened out of the norm, I had given Taffy his evening meal, after having his food he went to his litter tray to releaved himself. As perusual he then came into the living room and plonked himself down by my partners chair back legs up over his head to wash himself. This was his normal routine after eatting, suddenly he started to make this awful mewwing sound, one I had never heard before and do not want to hear again. I instantly moved over to him, not knowing what to do I felt useless I did not know whether to pick him up or what and then he tried to move. I noticed that he was not moving his back legs. The noise he was making was awful and I could tell he was in a lot of discomfort and I knew somethink was terribly wrong. Instantly I called our vets and took him over, All the time worrying as his owner (his daddy) my partner was not at home.
When I entered the vets they took me into a consulting room right away no waiting. Taffy was very agitated and the vet evaluated his condition. His rear legs were stiff and cold, and no pulses could be detected in the arteries that supply his rear limbs. He told me that the signs were very suggestive of a blood clot disrupting the flow of blood to his rear legs. He explained that these blood clots tend to originate from a larger clot residing within the heart and that a part must of dislodged and travelled down to his back, hence the blood clot now causing the problem. He told me that the prognosis for this was not good. I broke down and wondered how I was going to tell my partner, Taffy was his baby. I had to leave the room as the vet said it would be kinder to put him to sleep. I explained that, this was not for me to say as Taffy was my partners cat. I left the room thinking how I was going to tell Ken (my partner.)
I tried to compose myself and rang Ken when he answered the phone all I could get out was "Ken Taffy is in the vets, hes in a bad way" but I broke down again. The vetinary nurse took over and explained that he should come to the vets as soon as possible.
When ken turned up he was panicing as he did not know what to expect. He was brought into the consultation room and the Vet explained what was wrong. He looked at me as if to say what did you do. I told him what happened inbetween outbrakes of tears. Ken then realised that I had done nothing and had acted as quickly as was possible.
Ken was not willing to put Taffy down right there and then, he was too upset. So eventually we left. In total silence we drove home. He said Im not putting him down if we can beat this. Upon getting into the house he opened up his laptop and started searching for information on Taffy's condition. He read on a site
http://www.manhattancats.com/Articles/Arterial_Thromboembolism.html
that a drug called "heparin" could be given to dissolve the clot together with pain killers to help with the discomfort Taffy was in. To Ken money was no object he wanted to do what he could for his beloved Taffy, I was with him every step of the way. We would try to do as much as we could for him and not give in because it was the cheaper option, if there was a chance however slim it was, we were Vet the next day and was told that yes they could give him Heparin, but he explained in all his years of being a Vet this has never worked and always resulted in the cat being put down. Ken said but theres a chance he might come throught this with this injection right. The Vet said yes there have been cases he has read of that this has worked. That was all Ken needed to know. For the next 5 days Ken kept telling the Vet to keep trying and every day he would call us telling us that there was no change. On the fifth day the Vet called and told us that he was not willing to continue with the Heparin treatment, as Taffy was showing no signs of improvement, he explained that there was no plus or blood supply going to the back legs and that gangreen was starting to set in. Ken agreed to let Taffy go.
It was like loosing a part of us, Ken cried every night looking at his picture (The one above) for the best part of two weeks. Eventually started to get better, after some time things started to get back to normal, as normal as they could be but there was a big hole in our lives. We will always remember our Taffy boy and could never think of getting another Turkish Van, as we both felt that we could not replace a him with another Turkish Van.
Couple of months on and without knowing both of us were secretly holding the need to have another cat, without my knowledge ken had been looking at breeds on the internet, and reading up on them. One night he said to me Babe I want another cat, I smiled and said me too. Ken then told me that he had been looking at all these different breeds and the only breeds that seemed to share Taffys temperment and mannerisums were, Norwiegen Forest Cats and Maine Coons. After further reading up we decided we would get a Maine coon.
We now have a healthly, vet checked Maine Coon who has had a cardiac ultrasound to check his heart.
We think he is handsome and fell in love with him when we saw him.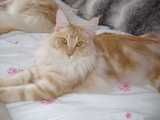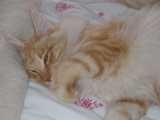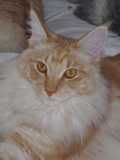 He is 1.5 years old and just joined our family a week ago. His birthday is on the 23rd of Feb 2008.
We love you Taffy and will always do so. good bless you. I hope anyone who reads this thread will realise that you may think that your cat is healthy, and he/she may well be, a cardiac ultrasound is is not cheap but well worth it, I would not want anyone to go through what Taffy and we did.