Hello all!
I have been browsing TCS for a long, long time and just today realized there were forums.
A little about me: Last year I moved from Dubuque, Iowa, to Yonkers, New York, regrettably leaving behind 3 cats with my mom. I have rescued 3 cats so far since moving to NY. I have only been a cat owner for about 2 1/2 years, but I have loved cats my entire life. In those 2 1/2 years, though, I have adopted 2 cats from a Humane Society(still have them), taken in 2 cats after they were recently abandoned(still have one, the other couldn't stay with other cats and had to go to a shelter), took 1 kitten from an overpopulated home(found a good home for it before I moved to NY), rescued 1 kitten from an abusive home(kept her for a few months, socialized her, but my mom couldn't afford to spay and vaccinate her, so took her to a shelter), and rescued 4 strays (2 kittens, 2 adults--my brother took 1 kitten, still have the other 3).
I have a huge heart and I can't bear to see cats mistreated, euthanized, or left outside as strays when they are lovable pets.
Here are some of my furbabies:
Pumba, my first cat, 4 years old, adopted from the Dane County Humane Society in Madison, Wisconsin. Great starter cat, doesn't get into trouble, doesn't like to be held, though. He is a wussy; he won't eat food or treats and won't play with toys when other cats are around, he's afraid they'll steal from him.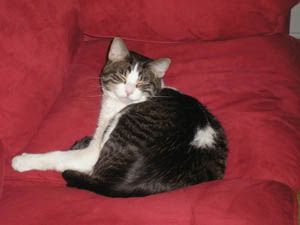 Pookie, 17 years old, also adopted from the same shelter. She loves her belly rubbed and loves food--she's very sneaky and will try to put her paw in whatever you're eating! She's gotten good at spilling cereal bowls to lap up what she can before you get a chance to clean it up.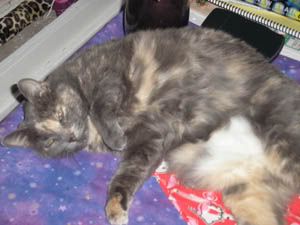 Dusty, 1 year old, scooped him up after he got into our apartment building and was hanging around our stairwell for a few weeks when he was 4 months old. He refused to explore the apartment and demanded to be held after bringing him inside. After he was neutered, he's become the best cat I've ever met--he loves to be held, very vocal, immaculate litterbox skills, loves to play, knows how to fetch, and doesn't make any messes. He is the master of my lap.
In the picture with Dusty is Bobby, 2 years old, friendly stray we rescued in the beginning of December. He still thinks the food is going to disappear, so he's gained a bit of weight since we took him in. He's slowly coming out of his shell, he and Dusty play together and groom each other. Dusty is the black and white cat, Bobby is gray and white.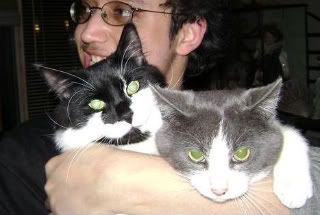 I have two more cats in my possession that I don't have pictures of:
Noel, 3 years old, he got his name because we found him at the hotel we were having a party at on Christmas Eve. Someone had thrown him out of their car window. His fur was completely matted (longhair) and he had staples in his fur! He is a lovable, lovely lapcat since we got him shaved and his fur grew back beautifully.
Our latest addition joined us last night, Kuro, don't know how old he is. Another of our friendly neighborhood strays, he had a gash on his leg so we finally took him in to take care of him. His story remains to be written
I look forward to getting to know all of you and your crazy cats!