hi! i just saw this and I can tell you about my pregnant Mama cat at the car wash! she was the smartest kitty! and pretty feral, not stray! I covered a humane trap w/beach towel, put can of tuna in at the end, and left for about 30 min. there were other cats around and I was scared I would get one of them instead! When i returned, to my surprise she was in there, so I took her straight to the vet, he was very busy, and so was I, so they took her out of the trap and put her in a holding cage, I didn't mean to leave
her there that long, but several days had pasted and he finally did an exam,
I wanted her spay/neutered!
I didn't even know if she was a girl or boy, my son said, he knew she was a girl, because of her dainty little beautiful face! he was right, she was a girl,
and a pg. girl at that! the vet said, "I sorry she is too far along to do the spay, so you need to come get her and take her to your house and let her be, until she has her babies!" I said, "that cat is wild and she has never been to my house" he said, "this cat is not wild, she is the sweetiest cat I've been
around!" Well believe me, until she was confined to the cage for that week, she was wild at the car wash! I had been feeding her from Oct. til the end of April! she was wild!
Not anymore! I picked Mama up and brought her home, put her in my son's playroom with a litterbox, she was a total lady! so sweet! so beautiful, and she used her litterbox, everytime, she was so good, we never knew she was there! Precious angel! one day, May 27, 2005, my son went to check on her, he opened his window, (I was outside) and yelled , "Mama has had a kitten and it's white!" "I think she is going to have another one!" I ran inside, she had a black one, and then one more tabby, who was the runt, and came out screaming! That was the one we kept, and named "Scream", we gave Fred and Ethal to some great people! They wanted Scream, but I was still feeding her kitten milk because the other two were total pigs! Here are some pics!
this is Mama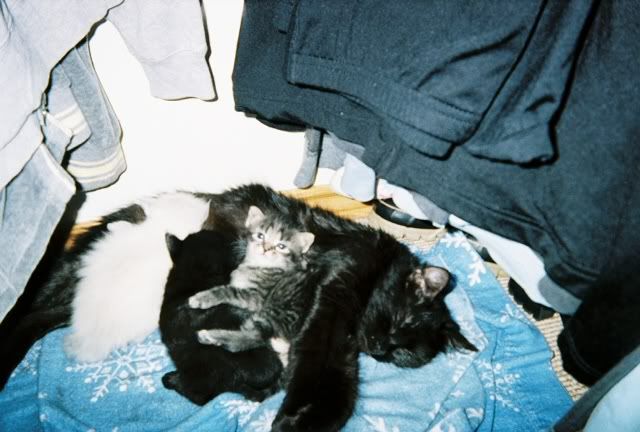 Here they all are, Look at Scream posing for the camera!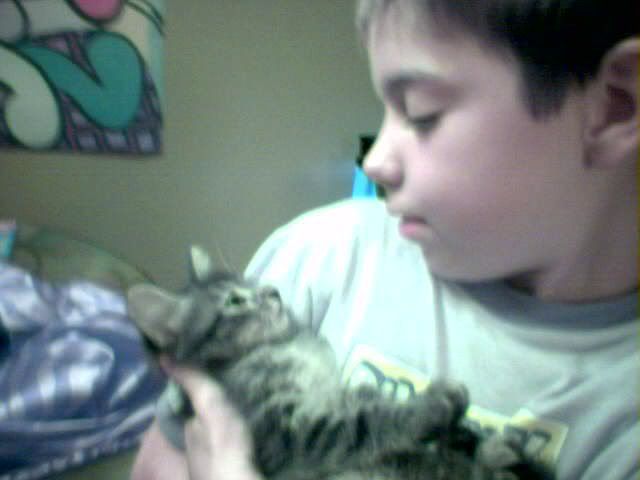 Scream and my Son Jace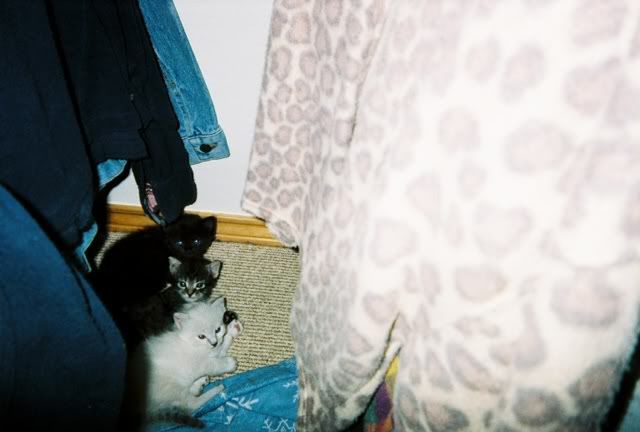 The 3 stoges!

That Scream she should have been a model!
and one more right before she left us!
Gosh! I can still cry over losing that special baby!
I still have Mama, she is the best kitty, she totally trusts me, and sometimes Jace, but if there are a lot of even a few people over, she darts, and hides, or out the door she goes! She is still afraid of people! and of thunderstorms, she freaks out bad, and she wants to go outside during the storm, I won't let her but she meows so loud! is scared to death! Bless her heart! I love my girl!!!
So good luck! hope you catch and take care of a kitty that will be so appreciative of your love!!!!
Monique