Hi I'm Jennifer...
I am a proud owner of a 7yr old Maine coon mix named Tinkerbell
She has a personality of a dog but I love it... She gets love when she wants it and meows all the time... She likes to gossip.
I am also a foster mom right now for a now 15-16week old I call her Baby Girl.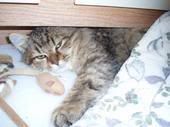 She is believed to be a maine coon mix as well. She is a challenge since she is a feral kitten, I have had her for 2 weeks now and have seen some improvement. She is driving me nuts and i just need to remember shes feral so she needs a ton more time to adjust to her new enviornment.
I also like with my boyfriend Charlie which is a handle full too....
Three babys in the house takes alot of time and effort.
I hope I meet some great people on this forum.... I think I should since we all have something in common
We love our kittys