I'm now convinced that my kitties snuggle often... in secret! LOL Perhaps they're even.... *gasp*... friends?!
Any time we're home they rarely sleep on the same piece of furniture. Never mind touching! Well, they got busted and I think it happens more than I know.
This is the pic I snapped with my cell cuz I was sure it wouldn't last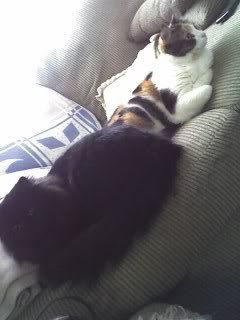 Boy, was I wrong! LOL Frankie is in my "usual spot" on the couch and today since she didn't move when I came in I just sat on the other side. Well, half way through my lunch Wickett plops down next to her. The reason I think it happens all the time is that he flopped when he usually does to snuggle with me. He's not a lap kitty, instead he presses his body against yours. Well, Frankie also frequently sits in my "spot" when I'm up. I think that her not moving when I came home made her forget I was there. See, I'm pretty sure she's had a talk with "the kid". Something like this... "Ya know Wickett, your not so bad. Maybe we can be friends... but you can't EVER let on that we are when our people are home. See, I have a calico reputation to maintain." :
What's funny is they stayed that way long enough for me to get the camera, take 3 pictures, and walk out the door! They didn't even flinch.
Look! They're actually touching!