Hello, Im indigowulf, just joined while trying to find advice on my kitty. Between my boyfriend and I, we live with 4 cats in Spokane, WA
I have had Cocoa since he was weaned, hes 10 years old now.
Cocoa and I work as a team to rescue neighborhood kitties that are in bad shape. He always seems to know who needs it. He brings them home, I fix them up, together we get them used to contact, then we find them homes. That is how we found .....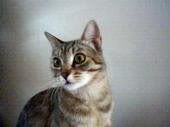 Nala!
Nala came to us a young feral girl, riddled with parasites and pregnant too early. She miscarried her litter, but got herself better. She had torn up her neck horribly scratching at her fleas, so I was waiting for that to heal to get her fixed (so she could wear a Ecollar and not chew spay stitches) well, sneaky little thing got outside and got preggers again, once again miscarrying most of her litter, except one little guy...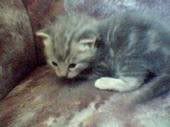 Yandros! (but he prefurs to answer to "Baby")
Yandros was born 8-17-07, and has his own Myspace! PM me if you want to see it, but it needs updating pretty bad now. Sadly, I no longer have access to the camera I used for these, so no piccys of Yandros now.
Boyfriend moved in and brought along his 3 year old neutered boy, Akuma, who rivals Cocoa in size. Aki is sad that the other kitties are too small to handle his style of play, and Cocoa is just too old for it. He compromises by running away and being the chasee in tag games. Sometimes he forgets, though, and does the pouncing. Mostly on Yandros, who seems to invite it then changes his mind when a cat 3X his size is on top of him. Nala is still protective of her baby, and reminds Aki that he's too big. Overall, they are good together.
Some more pics below
Yandros conquers the teddy bear!
Cocoa loving the baby
Nala keeping a watchfull eye on anyone playing too rough..