That's right. I've become that kind of person. I can't stop talking about my cats. If you tell me you want pictures? You'll likely NEVER get away from me again. I can show you pictures of my babies for the next year and never get bored. You have been warned.
I have three kitties, all female.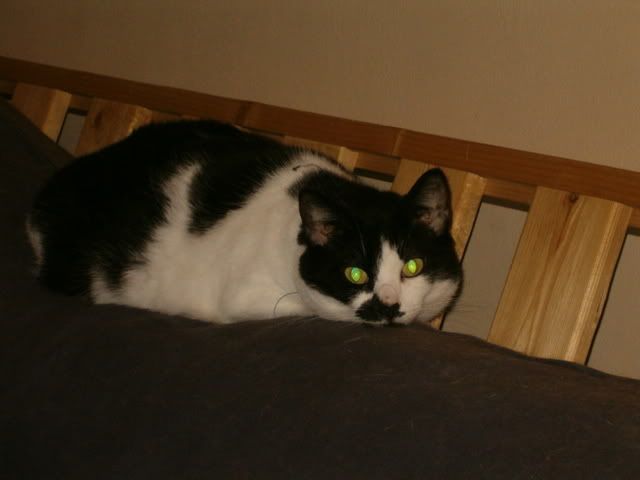 Valentine
She's sort of the queen bee of the family, though it's probably mostly because she's the biggest. She's the oldest as well, I think probably around five or six. I got her from a rescue, who had picked her up as a stray with kittens. She sat in a shelter for nine months before I found her about two years ago. She's named for the upside-down heart on her nose, and the song "My Funny Valentine."
She's also got the polydactyl mutation, with more toes and claws than she (or I) know what to do with. And wouldn't you know? She's the only one who hates getting her nails trimmed. So of course she's the one with roughly 2.3 million claws that are in nearly constant need of trimming.
She is my lovable curmudgeon. She mostly lies around on my bed and scowls at everyone. She is also the talker in the family, but a wonderful listener too. She has this way of looking at you when you talk to her as if you are the only person in the world, and she really, really cares what you're saying to her. Unlike most cats who listen on their own terms.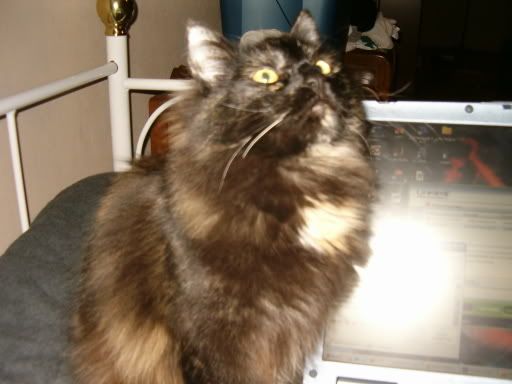 Cybot
Otherwise known as Cy or Cybercat. I think she might be my favorite. I know we're not supposed to have those, but there's just something about this girl. Maybe it's that she's like me in cat form? She's very laidback, super cuddly, the cat every small child wishes their cat was. She likes to be carried around in any position you like, she likes being hugged, she likes sleeping on your arms like a teddy bear. She likes YOU. She's great with kids.
She's a tortoiseshell, and either a new mutation or (more likely from what I've read of the breed) a manx mix. She is a rumpy-riser, and I looove playing with her little tail nub. The people I got her from labeled her as a Manx/Ragdoll mix. I believe it in terms of appearance and personality, but who knows? To me, she looks like a muffin. She's a portly little thing but she has this skinny legs and tiny feet. She's beyond lovable in every way, and the perfect fluffy shoulder to cry on.
She is also one of the pair collectively known as "The Girls." They're from two litters from two places, but born on the same day, and I got them a day apart. They weren't so sure of the whole arrangement for the first two days, but very quickly became inseparable. Which brings me to number three.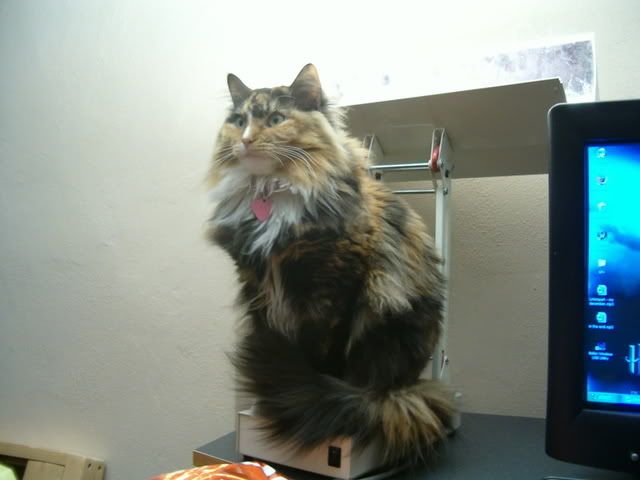 Sealink
Usually known as Slinky. She is half Ragdoll. I got her for free from a Ragdoll breeder who was in the process of having her stock fixed, when her prize queen escaped. Sealink was part of the results of her fling with--I'm sure--every intact male cat in the neighborhood. She has the tail and nose stripe of a Ragdoll, and believe me, she KNOWS she's from 'regal' lines, and she won't let ANYONE forget it.
Yes, she's the difficult, stubborn, nearly impossible one in the family. But she's so pretty you just can't stay angry at her. She also has the loudest purr. Her antics certainly keep life interesting. To her, everything is both a toy--AND hers. That paper you wanted to keep? Clearly it's hers to shred. That soda cap you left off while pouring your drink? Meant to be a cat toy and ultimately lost under the couch. She's also managed to ruin a cell phone charger AND break a laptop hard-drive. I often tell people it's a good thing she's so beautiful or she'd have ended up as a nice pair of cat-fur gloves a looooong time ago.
And because no one can resist a picture of sleeping cats, Cybot and Sealink's favorite sleeping position: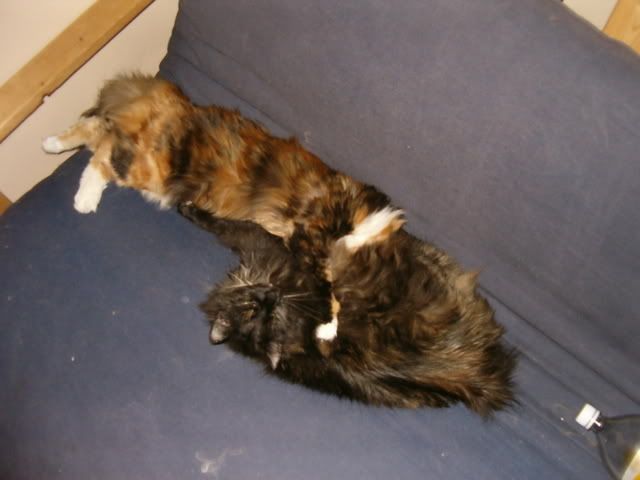 As for me, I'm a 24-year-old Pre-med student. I won't know til I get into medical school, but at the moment my interests are split between being a Medical Examiner, and working on an expertise in rare genetic diseases. I'm also a writer, and an avid reader--though both of those things get less time during the school year.
Also, it's a well known fact that writing forum posts is a great way to avoid during schoolwork. But my Cell Biology book isn't reading itself, so I'm out of here for now. Thank you for reading this long ramble. (if anyone did instead of just skipping to the pictures. They're the best part anyway.
)