When we moved, there wasn't room for the large cat tree with the basket Flowerbelle had come to absolutely love in our bedroom.
So... instead of putting the tree together somewhere else, we figured out a way to get her basket in here.
We screwed it onto the bookshelf. So then we put cat trees at either end of the bookshelf, and a cat bed and a little condo on top. And Flowerbelle isn't the only one to love the whole set up.
Tuxie sleeps on that condo every night. Flowerbelle is usually in her basket - and then moves down to sleep on me.
So.... I guess Tuxie decided he wanted to try it in the condo the next night. Only - I don't think it was as comfortable as he thought it was going to be!
He doesn't look too happy!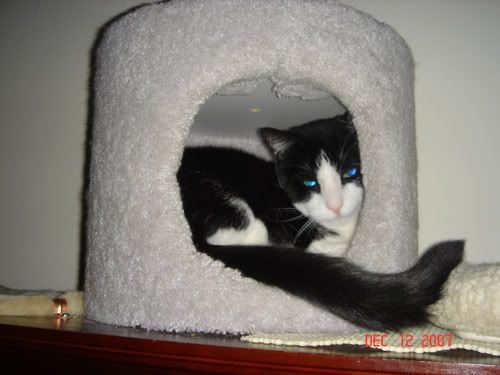 Laurie