No, not mine but I bet I scared you!
My cousin and his wife FINALLY had their baby!!! After 13 years of trying to get pregnant, they found out that they were expecting-through fertility treatments. Hoping that it was more than one, they found that it was just one, but they couldn't be happier! They also didn't want to find out the sex, so we were so anxious!
Finally after soooo long, yesterday on January 6, 2008(January 6th is popular in my family-Jeff-the baby's dad and his brother's daughter's birthday were that day as well)-little Landis Michael was brought into the world by emergency C-section weighing in at 7 lbs 14oz and 21" long. Mom and baby are doing great and dad cannot stop smiling!
Landis Michael-look at those long legs! Dad is 6'6 so he's apparently inheriting dad's height!
Dad and Landis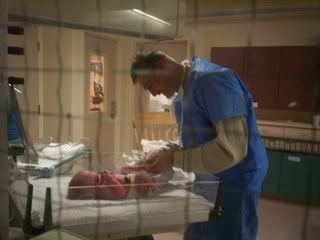 Mom and Landis