Hello all!
I wanted to let everyone see our new little ones. They were born Thursday Dec. 20th.
We have Nicholas (white boy), Nikita (Silvery-black/torti-ish boy), Jillian (cream girl) & Cali (calico girl).
Tell me how you would describe Nikita if you could. He has so many tortie patches, but I know that male torties are very uncommon. Tell me what you think.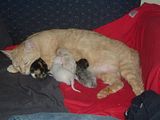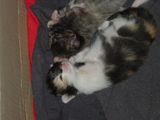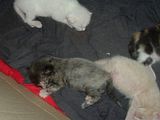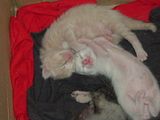 They are simply amazing.
They turned 2 weeks old yesterday and have started to do that little wobbly walk. They know when you are coming to pick them up and start to wiggle their butts. Nikita and Jillian are vocal, Cali and Nicholas are not; their dad is a Balinese, so it will be interesting to see if they pick that trait up from him.
Will post more pics as they start their adventures of walking and getting into mischief.
~R