Here my six babies :-) (and then some..)
Keli - 10 years old - Pretty crabby most of the time, but what can you expect? She has a huge household to reign supreme over, it's a lot of work....
Bandit- 9 years - very very shy petite little angel girl, total Momma's girl. Sleeps with me every night. By a long and weird story, she is actually Keli's niece...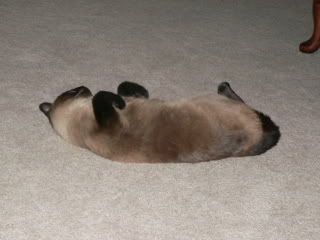 Jinxy was the next to join the house - He's about 8 now. He's just the most laid back easy going cat I've ever met. He's a big boy, with a little girly meow :-) Takes great fun in antagonizing Bailey. He's also my boy in my siggie
Here's Jinx sharing his basket with a foster kid..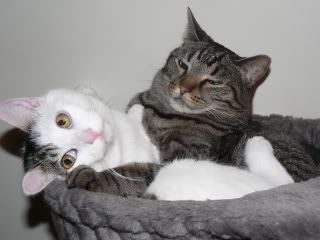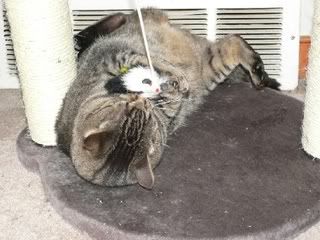 Then came Shellbie- she turns 2 this spring...
She doesn't meow, just squeaks. Goofy little thing :-) She loves foster babies...
"Everything is a little more in perspective upsidedown"
Then came the terror... Bailey. He was supposed to by a foster, but I was actually worried to adopt him out b/c he could be so rotten! He was a scarred up tom when I got him, and he would draw blood in an instant if you crossed him. But now, I'm happy to say, he is a sweet Momma's boy! Still not a big fan of Daddy... but hey, that's okay by me! He loves to sleep under the covers with me, and I can get him to purr so loud, he's opens him mouth and kind of twills/purrs at once. He is ALWAYS into something. And he LOVES babies ( of the furry variety anyway).
Now seriously, don't let appearances fool you... You just can't see his horns from this angle..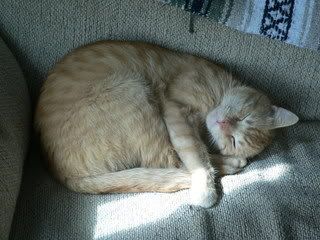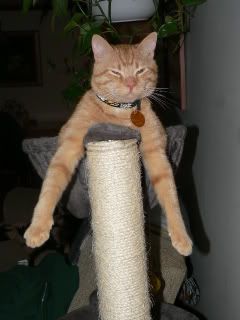 Last certainly NOT least! Kailey! She's just about 7 months old. And what a total sillybutt!! Loves everybody, especially the current foster babies! They love her a little too much... she's only about 3 months older then them, and they all try to nurse on her?? Goofballs..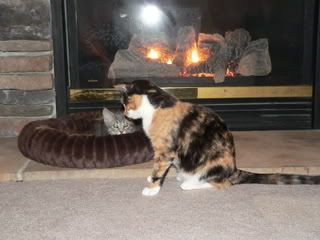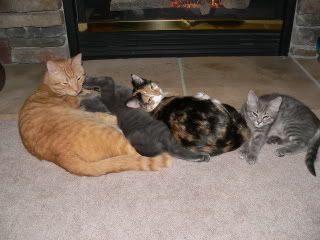 She's about 3-4 months in this pic, but it's so darn cute. Bailey is SO tender and gentle with the babies. Hard to believe he used to be so rotten!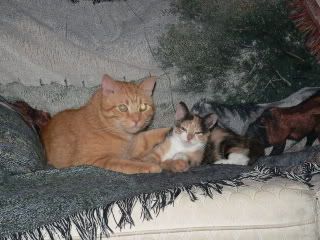 And just some random pics..
LOL- Bookends!
"I know where you sleep.... you WILL pay for this humiliation."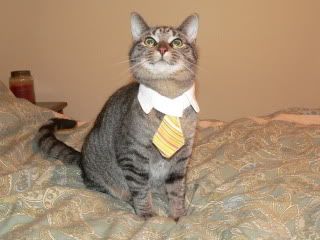 Baby Kailey
"No, you mean the
OTHER
cats aren't allowed on the table..."