"In Memory of Egypt and Kittens"
Egypt was a lil gray Kitten found in a Junk Yard one day in '05.... Her mom was Pure Siamese and her dad was most likely the neighborhoods Orange Tom. When we took her home she was Terrified of everyone even herself, she even scarfed down food as if she'd never eaten before.
A couple days after she arrived home and was getting more comfortable with us we noticed she was not only Grey but also had Orange and White spots. By the age of 3 months she was a noticeable Grey Tortoiseshell... The most Uniquely Colored Beautiful Torti ive seen at that.
So time went by and we moved and she eventually got out of the house ((she was an indoor cat)) and came back Preggers.... which wasn't a big deal, she'll have her babies, we'll rehome them when old enough then we'll fix her. Well about 1 week before she was due a family crisis popped up which caused my family to move out of state and because of Egypt I stayed behind and stayed with a friend.
Because the friend I was staying with had Dogs, Egypt was forced to stay in a workout room uncomfortably... and I was given a deadline of 7 days to find her a home.
So I searched and Searched and the only offer I got was a lady who wanted to abort the Kittens and find Egypt a new home but I said Hell No!! cause I wanted someone who would foster Egypt, find the kittens a new home and then let me have Egypt back when she was ready.
By the last day of my dead line a lady contacted me and said she'd foster her for me... Thank god cause the kittens are due any day now!!
So we met up and she took Egypt... That was the last time id see Egypt.
The lady contacted me the next day... Egypt had had 6 Beautiful healthy Kittens the night before!!! I was so happy, she Emailed me pics and time flew so fast... but not fast enough. It came time for me to join my family out of state and we had bought the ticket and paid extra to have Egypt and and my bird come with me as carry on items... But the kittens weren't old enough for Egypt to leave them.. so I left FL without her.
The lady said she'd hold Egypt and one of the Kittens and in January she'd have them shipped out to us... that was awsome!!
Around December the lady called and asked if she could get Egypt fixed... I didn't think anything of it so I said yea go ahead, her fixing date was Dec.27.06. So when that day came around I called to see how the surgery went and the lady had said that Egypt and 4 of the kittens had to be put to sleep ((an adopter was willing to spend the money to treat the other 2 kittens))... that they had ran test and when she went in to get fixed the test had arrived and she decided to have them put down right there... they all had FIV ((Feline immunodeficiency virus)) , that was one of the few times I broke out in tears over the phone.... she said she was getting her Cremated and that she was ganna have her Ashes sent to me in a pretty Picture Urn.

Egypt was put to sleep exactly 1yr and 3 day ago.... She will be missed forever and never forgotten.
[[I never did get the ashes... the lady said she'd sent them twice in 2 different Urns but I never got them]]

Egypt when she was younger..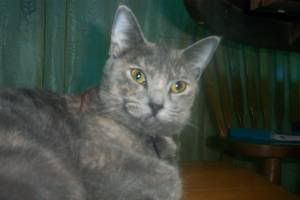 Egypt and the kittens...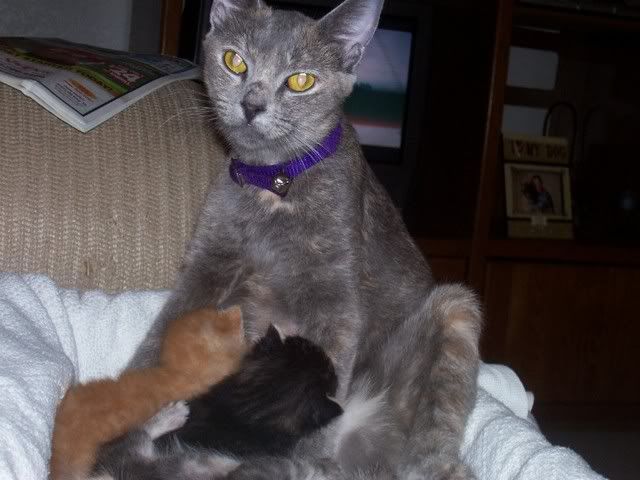 A Good view of Egypts color...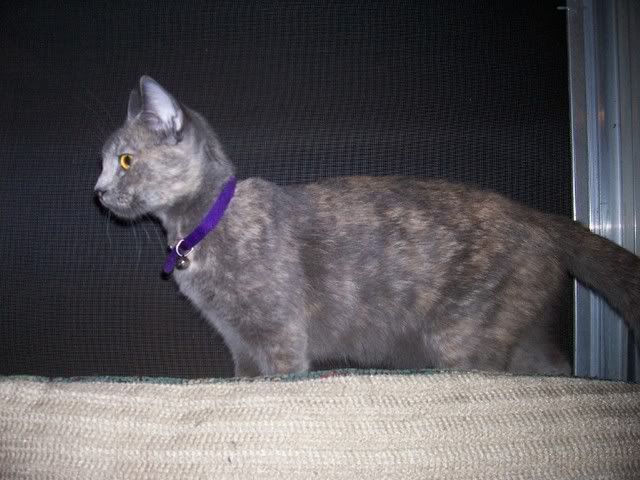 Aiden.. the kitten I was suppose to keep...


More of the kittens...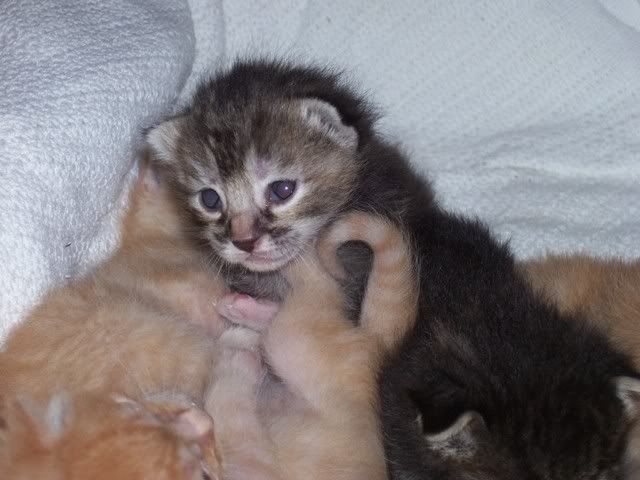 And all of the kittens...



I didnt find out till a couple months ago that it was illegal for her to put Egypt to Sleep without contacting me first, there were no papers stating that the cat was hers or that i gave her permission to go ahead and treat all health problems... Although i would have never had the money for Egypts treatment im still upset that she didnt contact me when she did put her down. I still get all teary to this day when I think about Egypt.
Idk how many of you guys know what FIV is but for those who dont... PLEASE LOOK IT UP!!!