Chloe, my baby girl...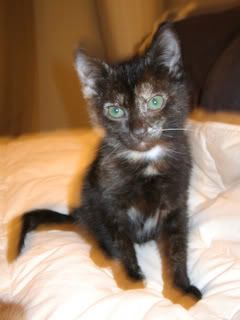 After a nasty cruel battle with FIP, she is gone.
I'm devastated. I tried everything, I thought she was getting better. I was sure she would make it through this.
But I was wrong...
I miss her so badly... I'm afraid Berach, her brother, may fall ill now.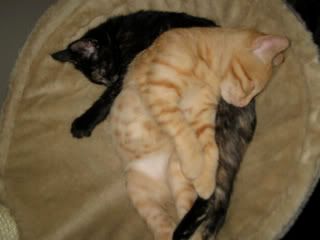 (Berach and Chloe napping together in their hammock)
I'm obsessing over any tiny thing that
may
be different with him. I'm not sure if it's just the fear of losing him or if I really should be concerned.
We buried Chloe this morning. I put her in the garden next to the catnip and planted flowers over her grave. We lit incense and burned candles and we all said a few words. A stone angel bearing her collar now marks her grave.
She was only 5 months old. She was the sweetest kitty I ever knew.
I wasn't ready for her to leave me...
RIP Chloe...